Wow!  Wow! Wow!  Well worth the effort!  This picture doesn't do justice to the flavor inside there!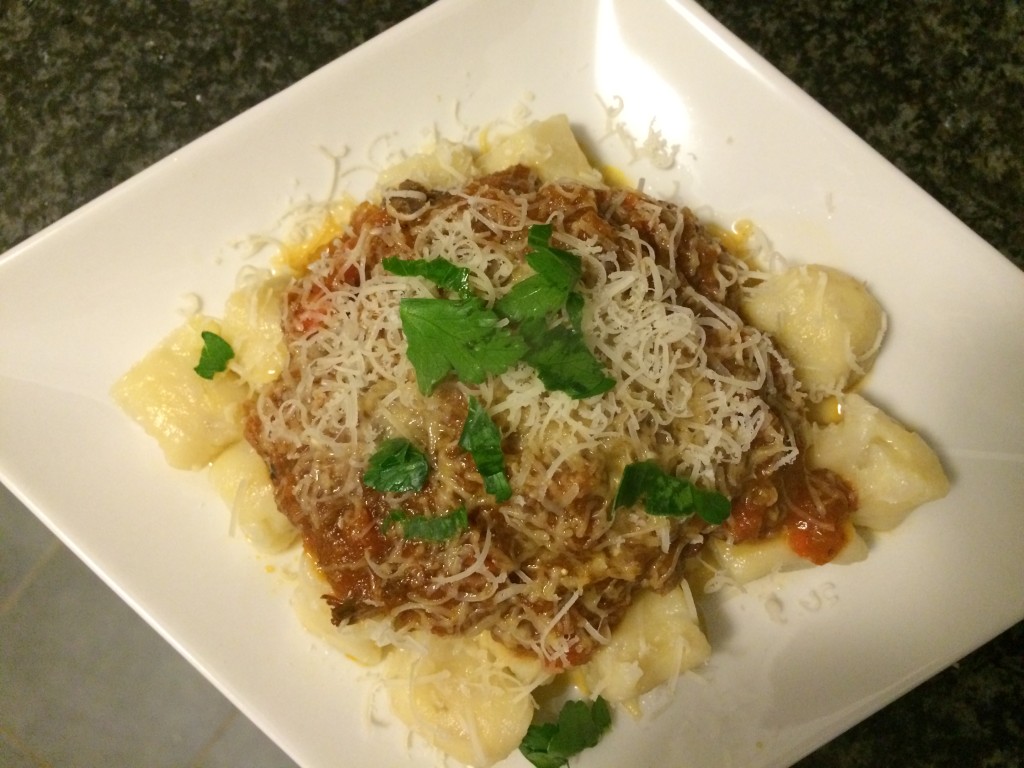 This was so much work but so worth it!   I met a woman Anna from Belgium who is from Croatia on a river rafting trip in Costa Rica last week.  At lunch she was telling me about Croatian food and told me about this recipe.  It is called Pasticada.  She said she is going to email it to me but I haven't heard from her yet and couldn't stop thinking about it so I scoured the internet to find out how to make it.  It is a very popular Christmas or special occasion dish.  Now I know why because it is takes a while to make.
I followed the recipe off of this site called chasingthedonkey.com
2kilos; beef, top round (my piece was 3.5 pounds)
20 grams; smoked/dried bacon
200 grams; onions
150 grams; parsley root
150 grams; carrot
50 grams; celery root
2 garlic cloves
20 grams; tomato paste
200ml, cooking oil or olive oil
10g, cloves
10 dried plums (didn't have figs so added 6 more prunes
6 dried figgs
2 apples
300ml, red wine, I used some sweet vermouth I had maybe 1/2 cup
2 table spoons, mustard
3 bay leafs
rosemary leafs
salt
pepper
Every recipe was a little different but this looked the best to me.
First you stuff little pieces of bacon and garlic into the meat.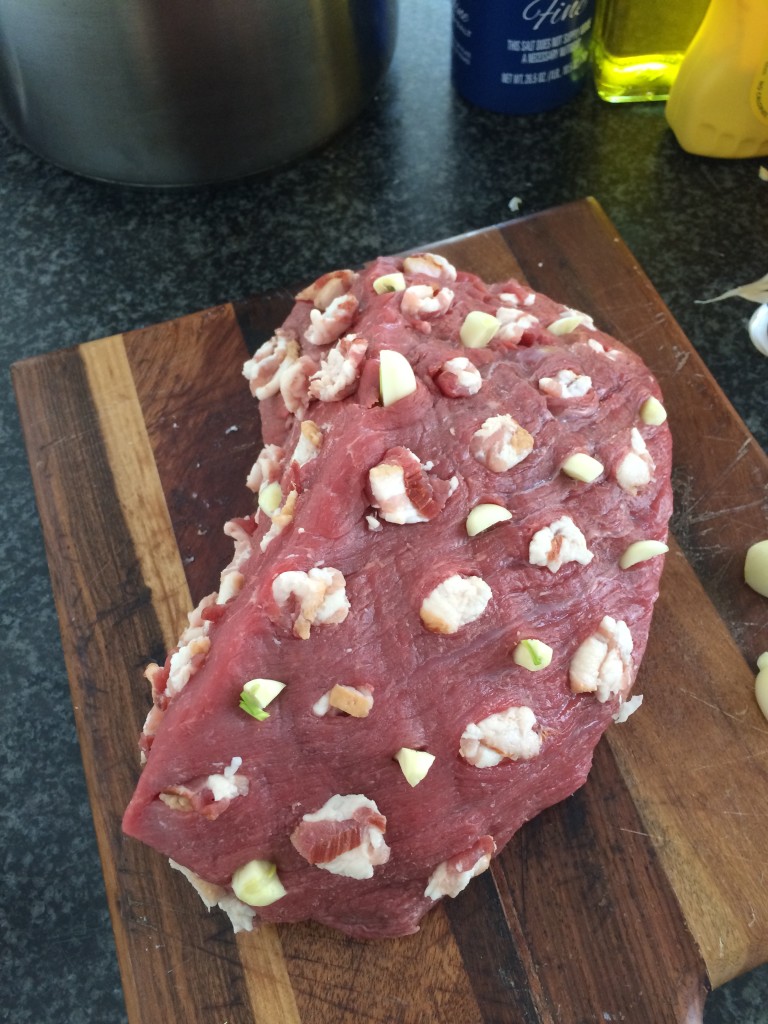 Then you spread it with mustard and salt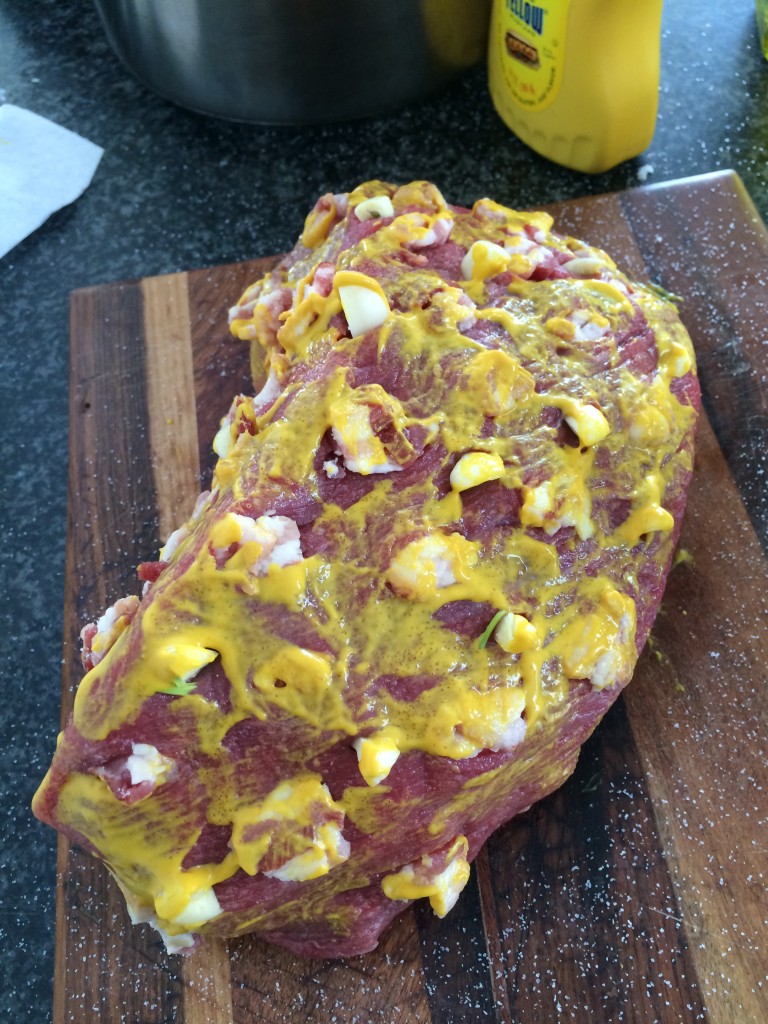 Then marinate it in cider vinegar and olive oil.  It doesn't say how much but said to cover it which was alot.  Mine wasn't quite covered all the way so I turned it over a couple times and I marinated it for 24 hours.  It looks like 5 hours is about the minimum but overnight seems to be the most popular directions.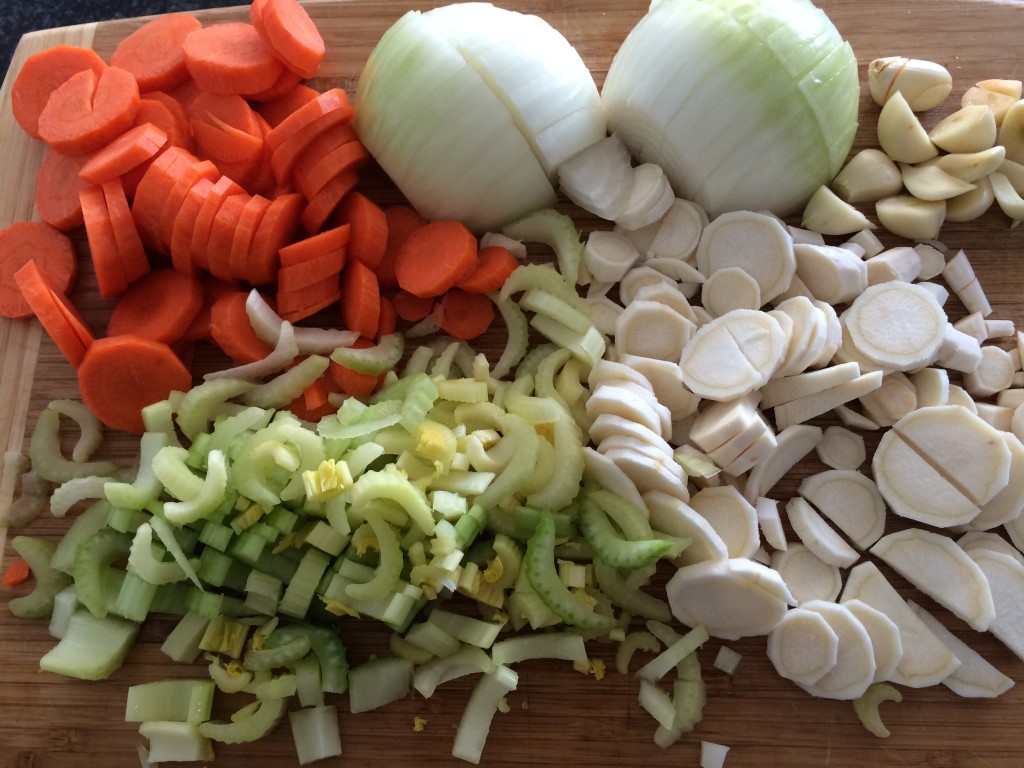 These are the chopped vegetables.  I really tried hard to get a celery root but after going to the third grocery store I gave up and came home without it.  I used regular celery but cut the center pieces near the base hoping it would be a close match.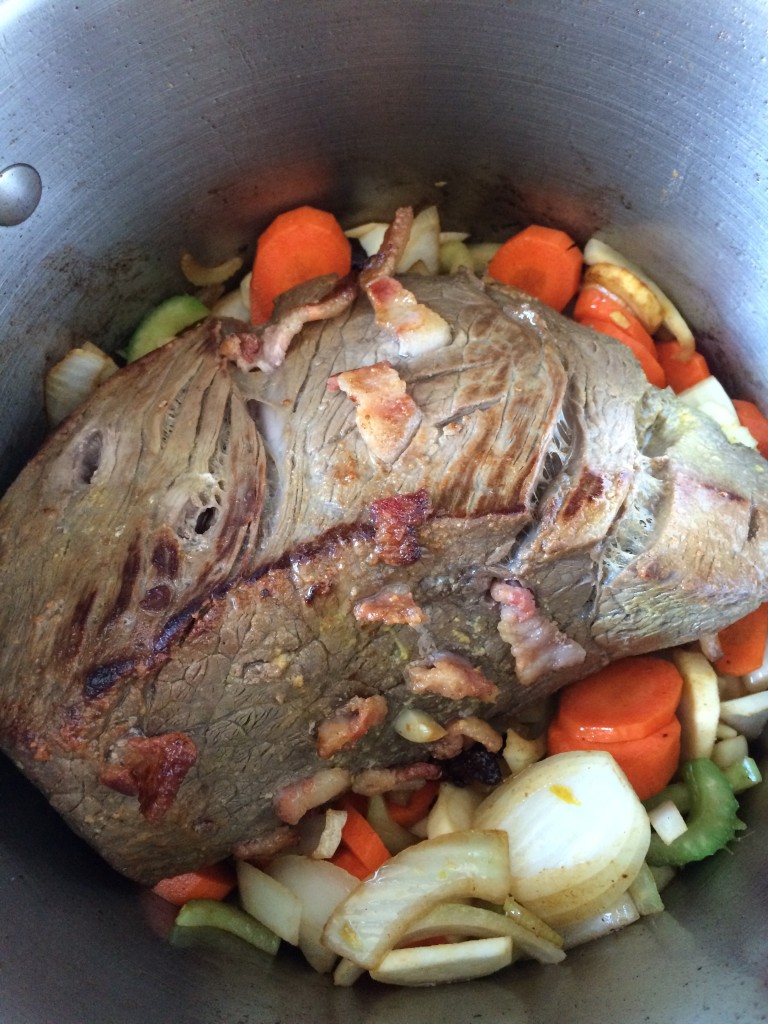 The meat gets drained out the marinade and seared in the pot in olive oil to brown and then you take it out and saute the vegetables and then put the meat back in.  I added some sweet vermouth and put the lid on for a couple hours to simmer.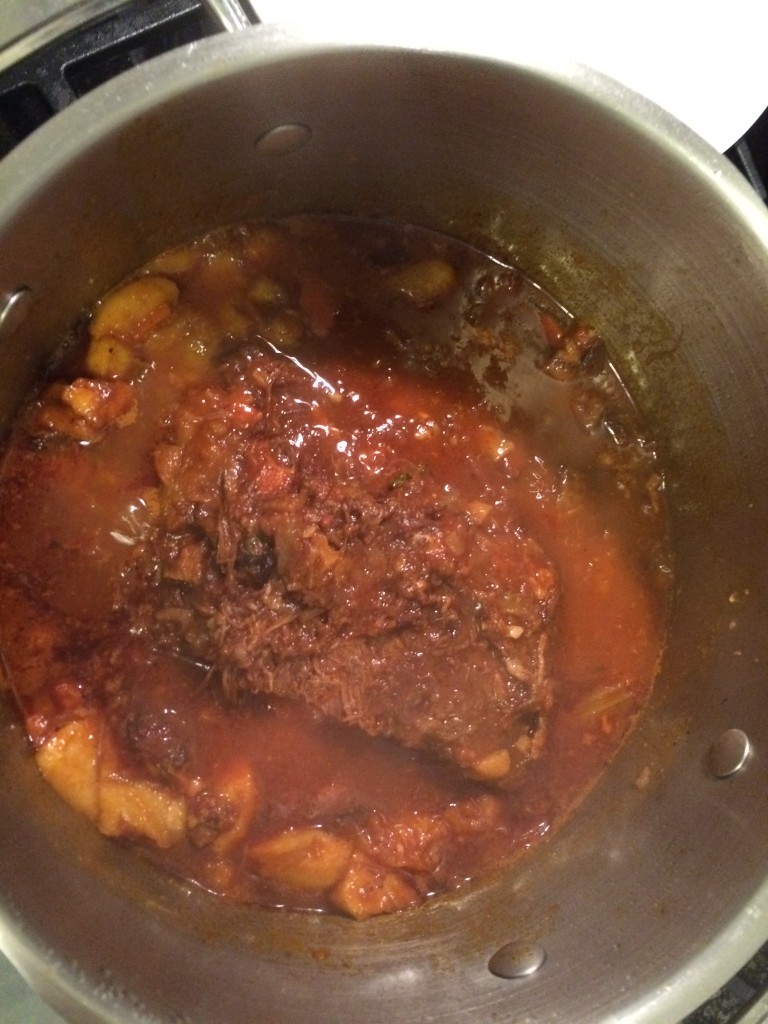 Then I added a couple scoops of tomato paste, about 16 prunes and 2 apples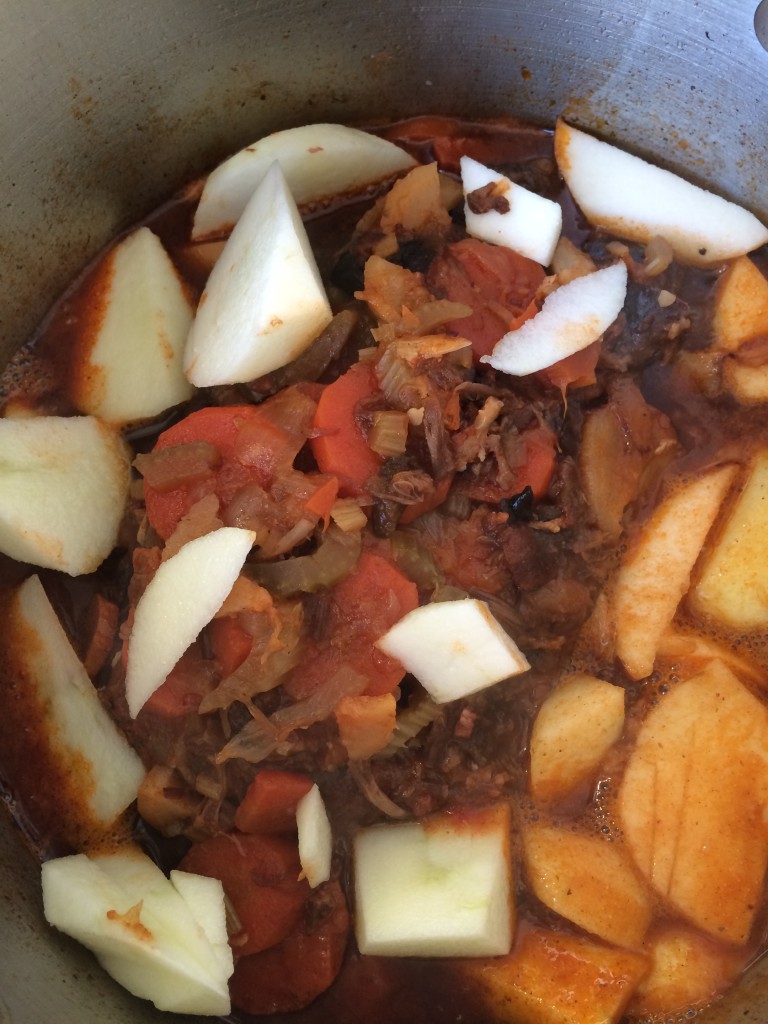 Then this cooked another hour or so and then I added thyme, cloves, rosemary and 3 bay leaves and simmered some more while I made the gnocchi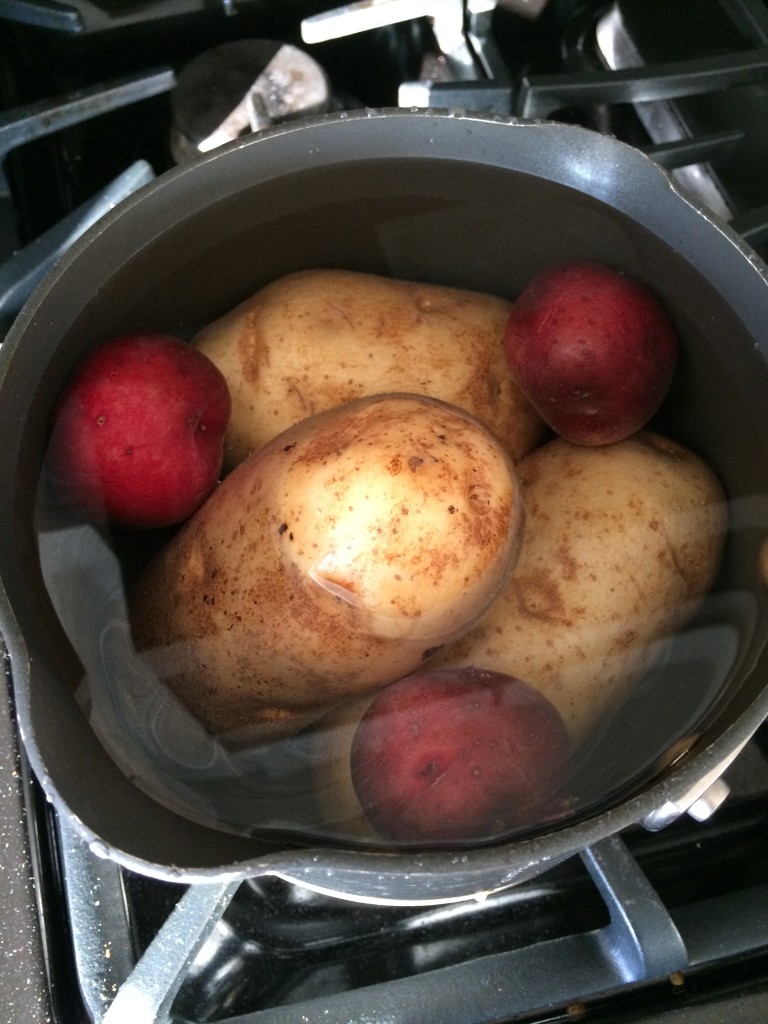 I boiled 2 pounds of potatoes with the skins and then let them cool and then peeled them.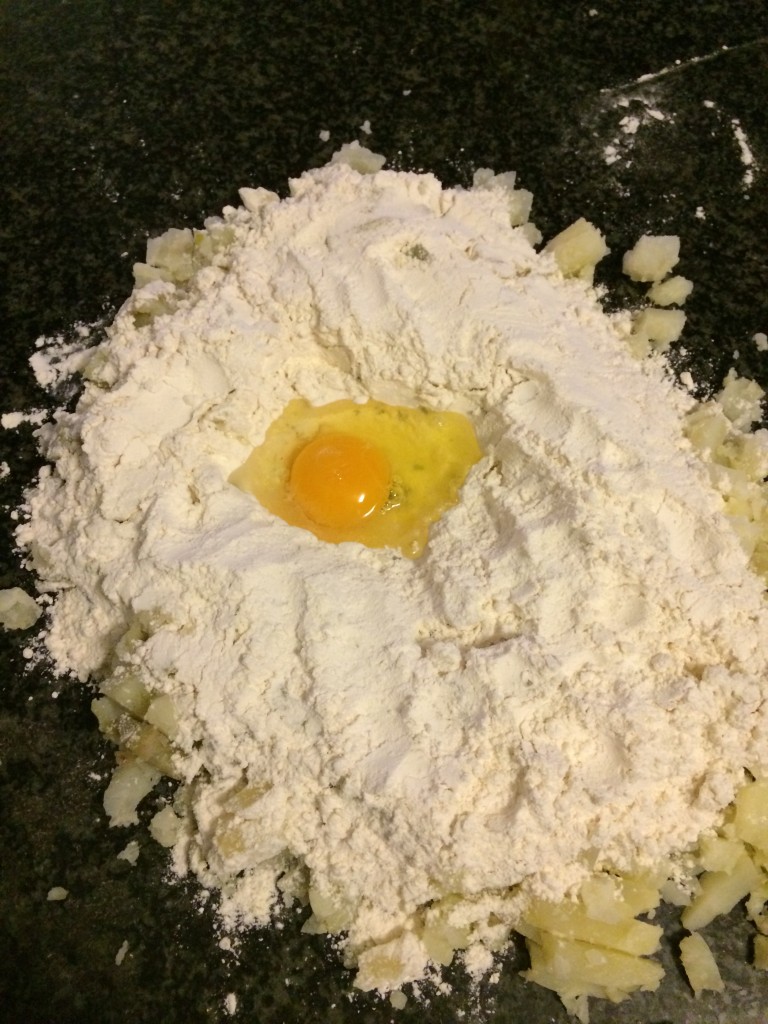 I shoved them through a french fry cutter my son got for Christmas, don't have a ricer, added 2 cups of flour on top, 1/2 tsp of salt and an egg and kneaded it all together.  Cut the dough into slices and then rolled them into logs.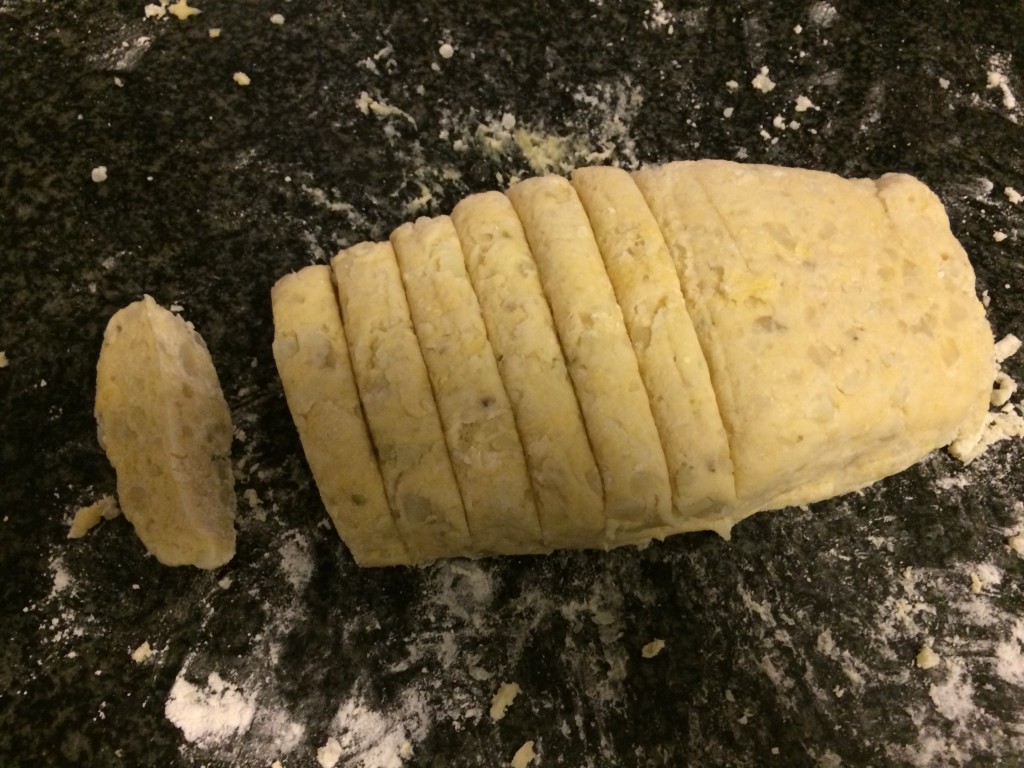 I cut them up into little gnocchi pieces, actually a lot easier than I thought it would be.  I have never made these from scratch before.  Then boiled them for a couple minutes until they floated to the top.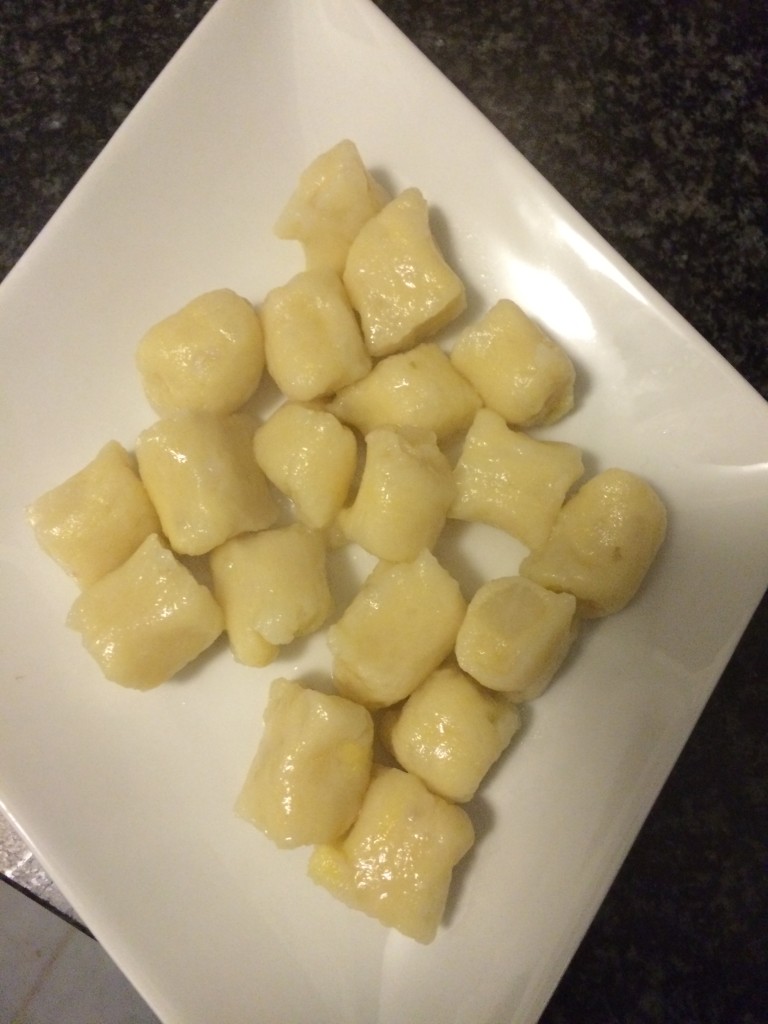 The sauce was ready so I removed the meat and with the stick blender pureed the veggies, sliced the beef and put it back into the sauce.  I put a slice of roast and topped it with the sauce, parmesan and some italian parsley.  So good!  My husband loved it, too!  He said best sauce ever!  Homemade gnocchi is very worth the effort!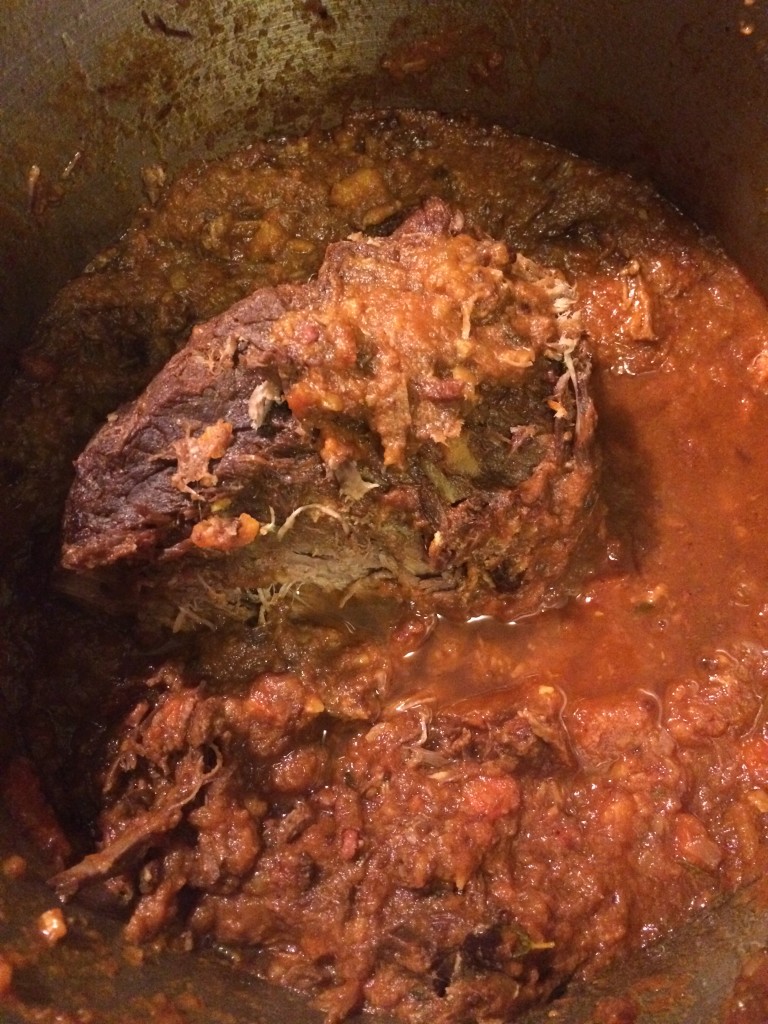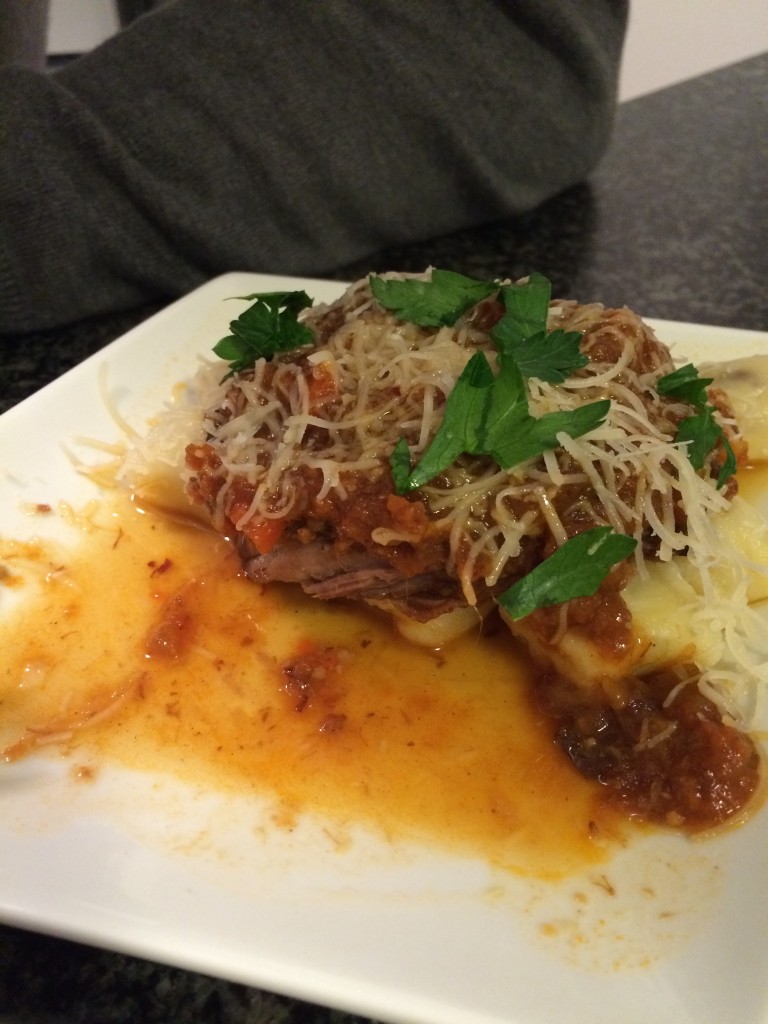 I scraped up every bit from the pot to save away to eat again tomorrow.  I have two containers left of pure gold!  YUM!  The flavor is so interesting, kind of sweet and sour and italian at the same time, very rich and flavorful with the prunes, apples, thyme, rosemary, cloves and parsnips, carrots and onions, garlic and tomato.  My son said it was too vinegary but said the meat was perfectly cooked!  He did say that the gnocchi balanced the acidity.  The meat was melt in your mouth!  Never had meat that tender before.  Probably the 28 hours in the vinegar!  The rest of the gnocchi are freezing now waiting for tomorrow.  I think I will try this for Christmas 2015!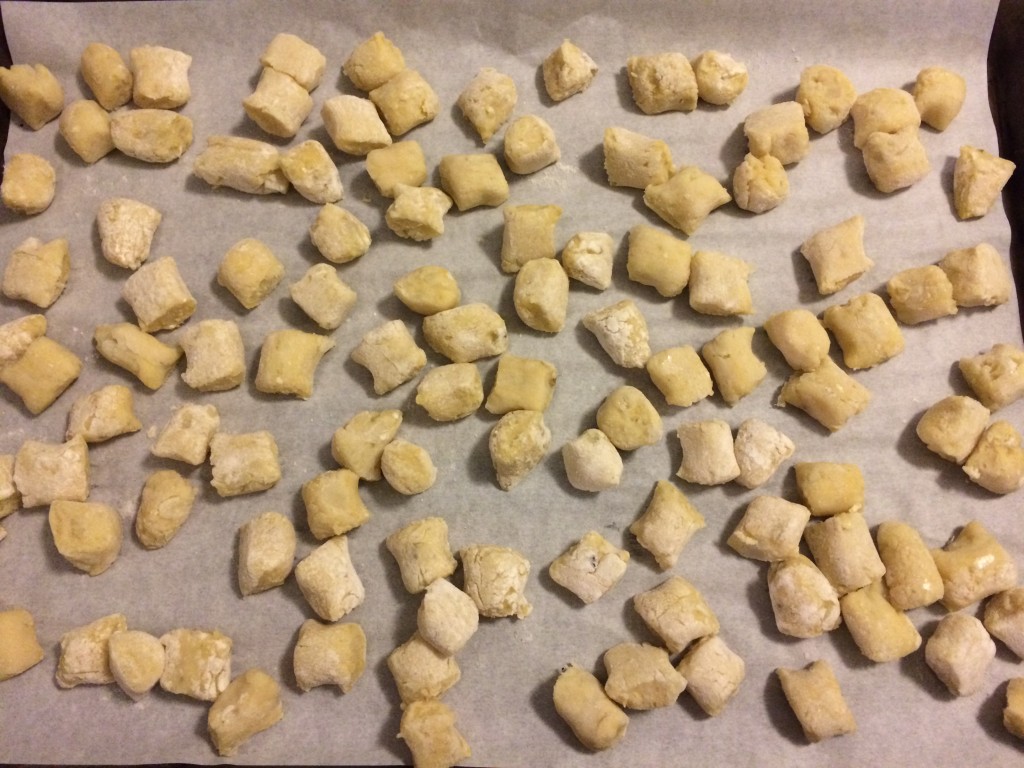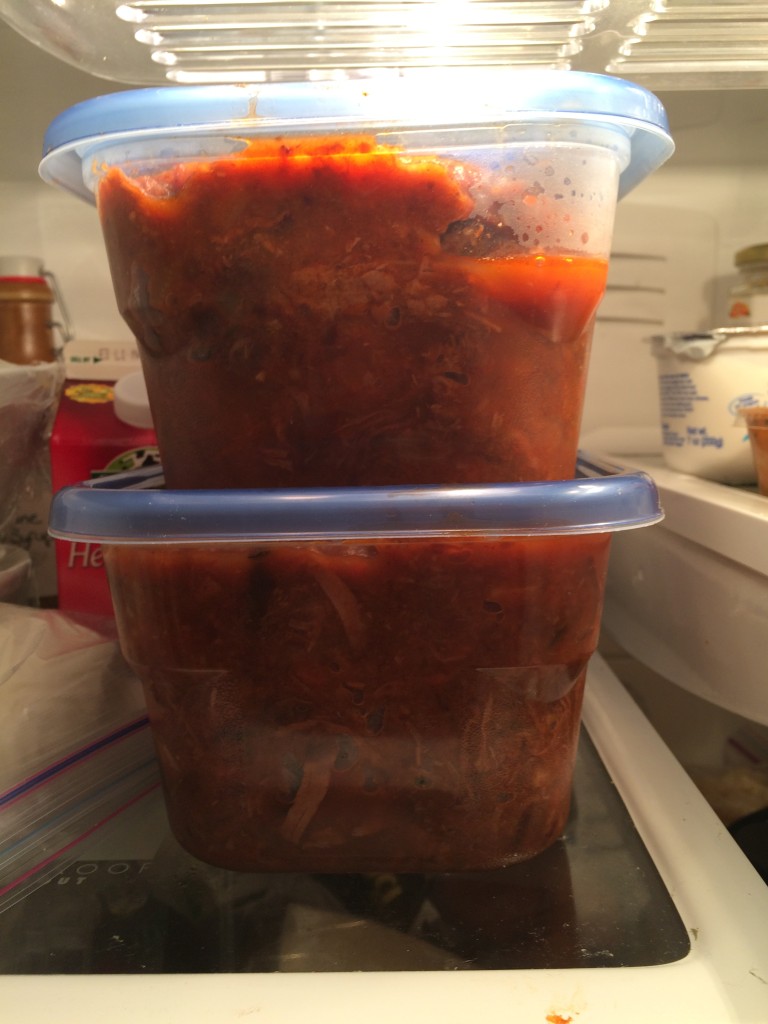 What can I say? Wow!