This is the Riccioli pasta I found at Fairway that sat in my kitchen waiting for something interesting to happen with it!   I found this recipe online at Food and Wine.  Their recipe has you making the pasta from scratch and twirling the strands of homemade pasta around a knitting needle which sounds amazing but these store bought ones were pretty good.   I followed the sauce exactly as the recipe describes.
1 tablespoon olive oil
3 ounces thickly sliced smoked bacon, cut into 1/2-inch dice
1 medium onion, finely chopped
1/2 teaspoon minced garlic
3 cups fresh corn kernels
1/2 cup chicken stock or canned low-sodium broth
1 1/2 cups heavy cream
1 teaspoon minced fresh thyme
Salt and freshly ground pepper
2 large plum tomatoes, seeded and finely diced
1 teaspoon balsamic vinegar
1 scallion green, cut lengthwise into very fine julienne
Heat 1 1/2 teaspoons of the oil in a large skillet. Add the bacon and cook over moderate heat until most of the fat is rendered, about 5 minutes. Add the onion and garlic and cook, stirring, until translucent, about 4 minutes.
Add all but 1/3 cup of the corn to the skillet and cook over moderately high heat, stirring, until the corn is browned, about 4 minutes. Add the chicken stock and bring to a boil. Add the cream and boil, stirring, until reduced by about one-third, 3 to 5 minutes. Add the thyme and season well with salt and pepper.
Heat the remaining 1 1/2 teaspoons oil in a nonreactive skillet. Add reserved 1/3 cup corn and sautée over moderate heat until toasted, about 3 minutes. Add the tomatoes and vinegar and season with salt and pepper. Cook, stirring, until the tomatoes are just soft, about 2 minutes.
Cook the pasta in a large saucepan of boiling salted water, stirring occasionally, until al dente. Drain the pasta, transfer to a bowl and toss with the creamed corn sauce. Garnish with the toasted corn and julienned scallion and serve.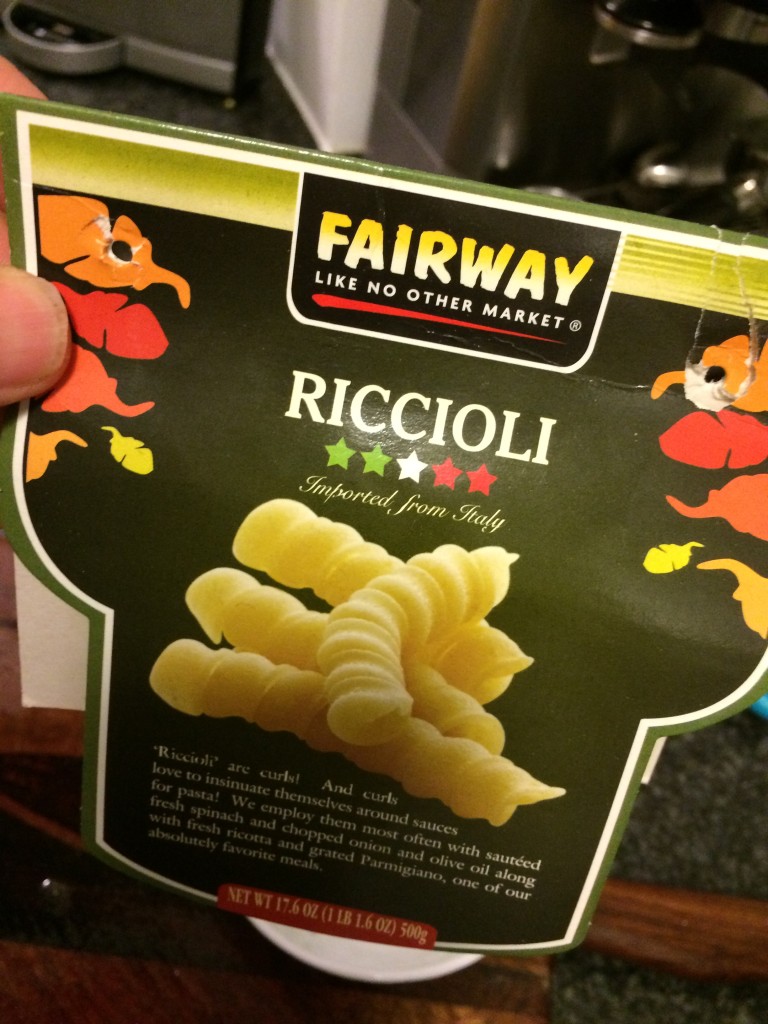 The pasta!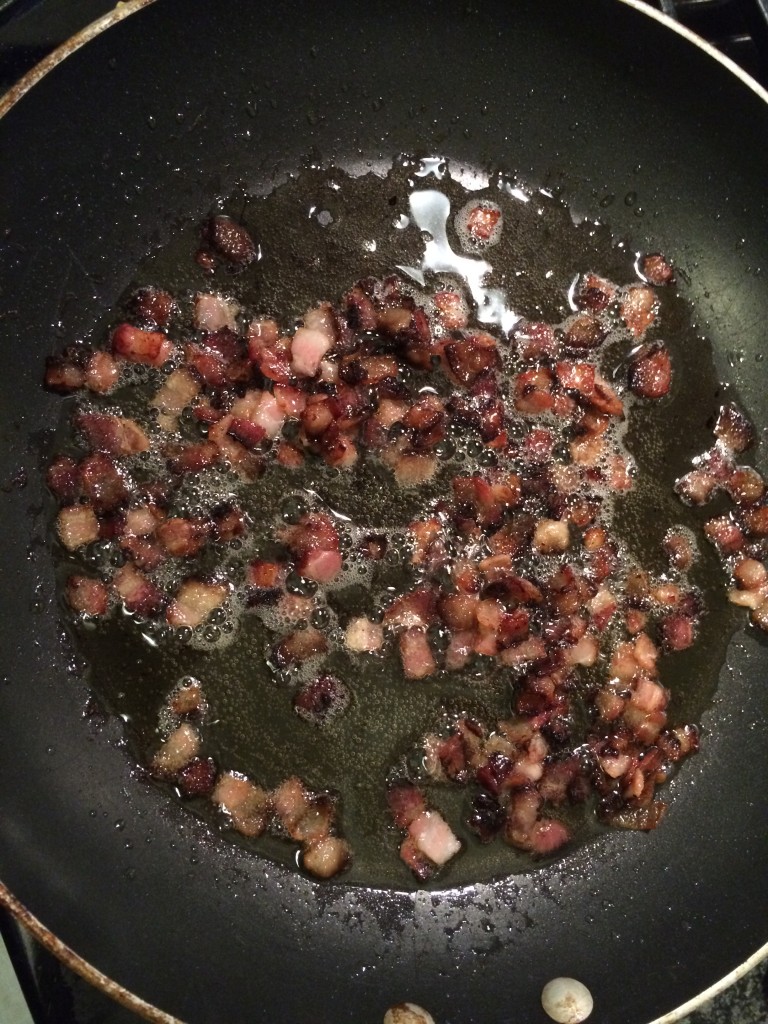 Saute the bacon.  I think I am going bacon crazy now that you can by it without the nitrites.  I have been waiting 25 years for this to happen!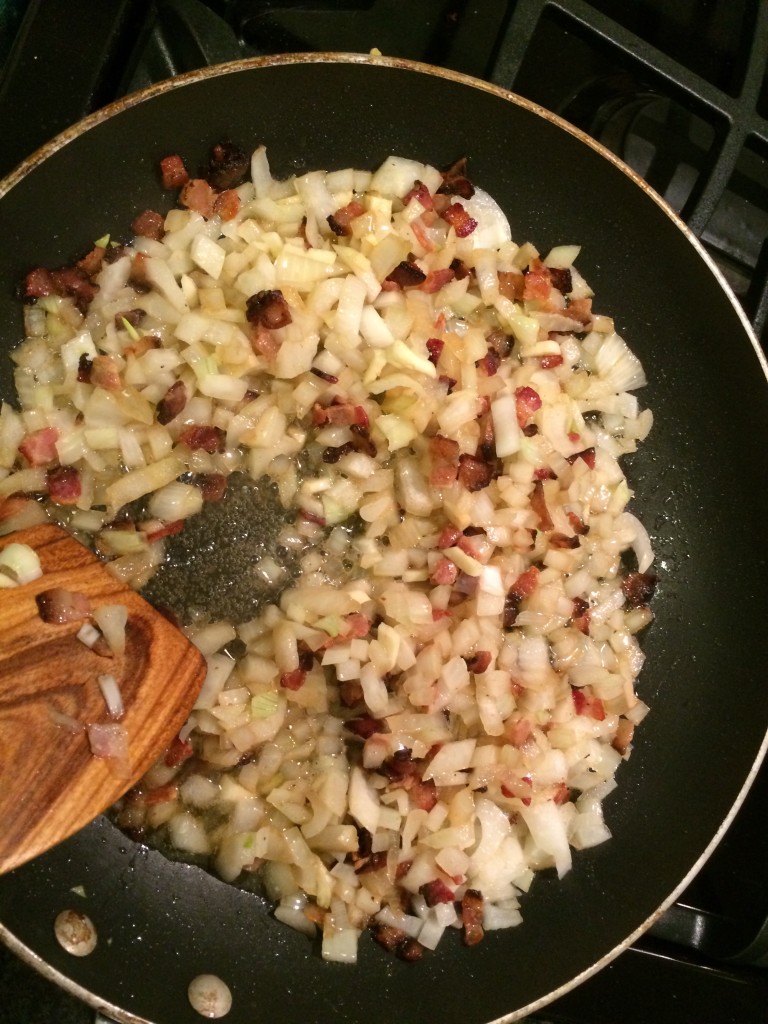 Saute the onions.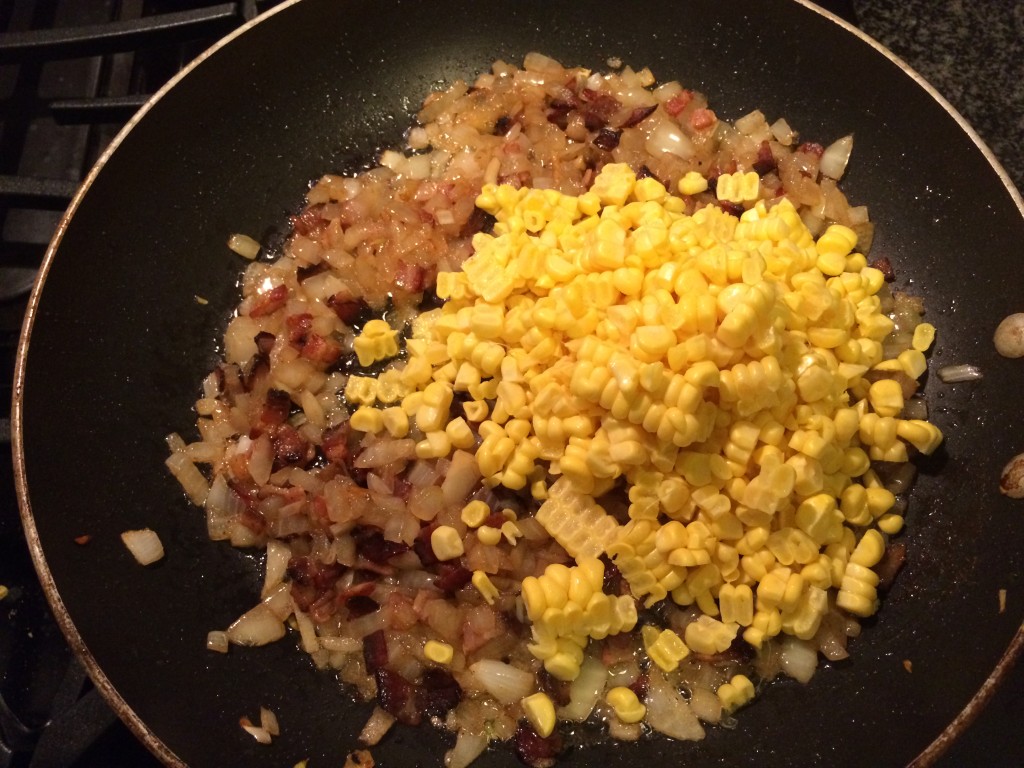 Add the fresh corn.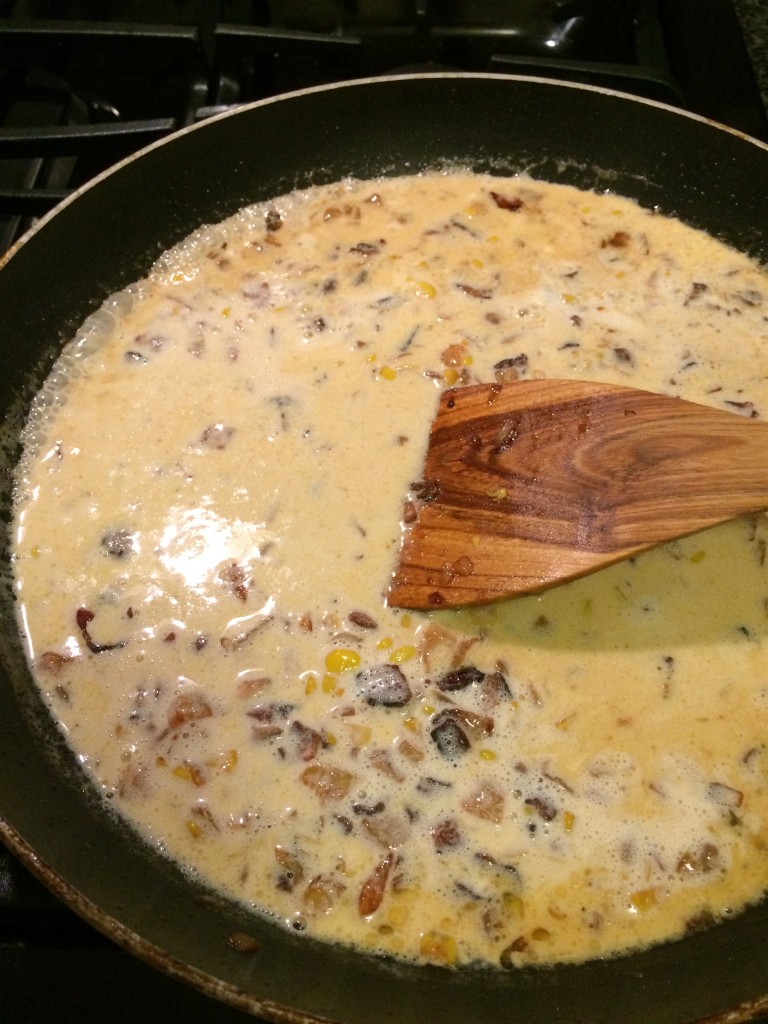 Add the fresh thyme and heavy cream and broth.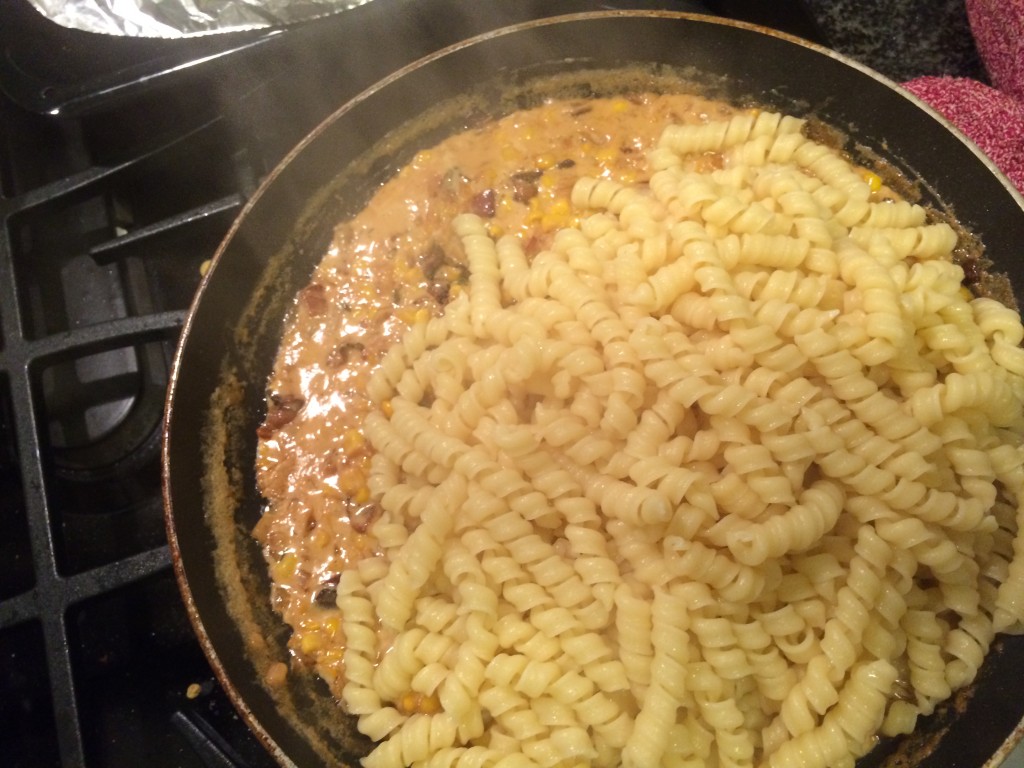 Add the cooked pasta.  I should have added less to start with.  Lesson learned!  You can't take away extra pasta once it is mixed.  The sauce was really good but I felt I wanted more sauce to coat the pasta.  Oh well.  It was still good.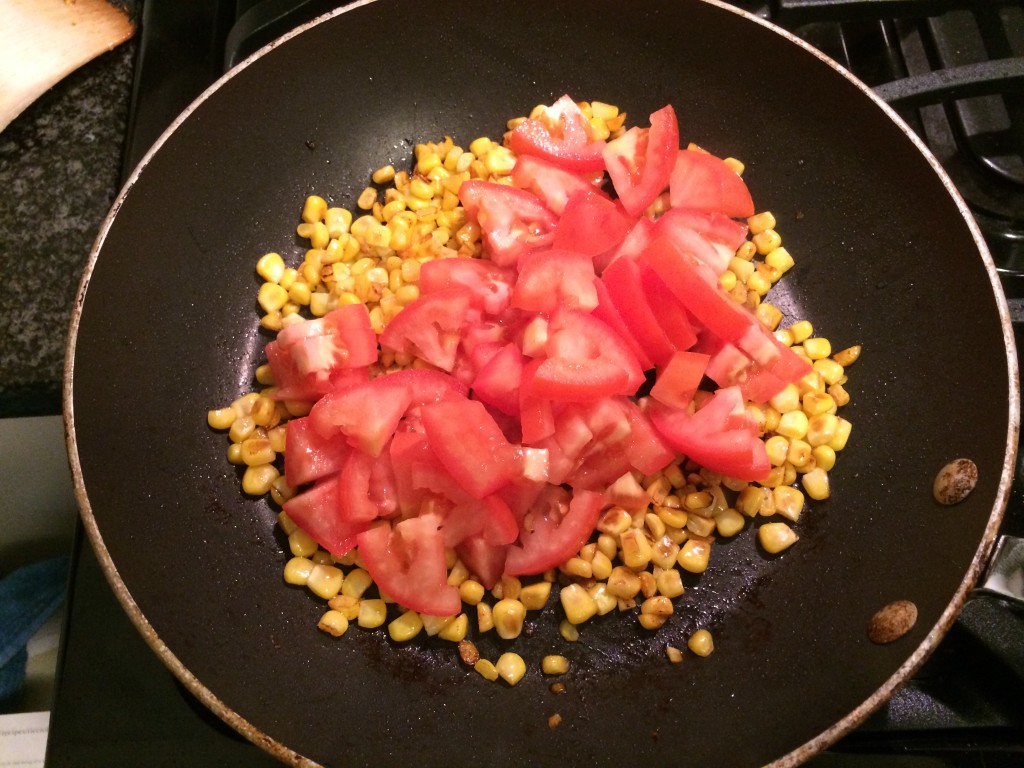 This is the caramelized corn mixture that goes on top as a garnish.  I thought it could use more balsamic than the recipe called for.
The roasted pork
I served this with a stuffed pork roast from Fairway.  Not bad.  I think I may have been more excited if it had more sauce.  My fault.  The texture of the pasta was really interesting.  I really liked that.  But I think it needed to swim in the sauce rather than a light coating.  Still good though.