Henry went to a spring break camp at Sur La Table and learned how to make these chocolate souffle's.  They were delicious!  These are pictures when Henry taught Roger how to make them.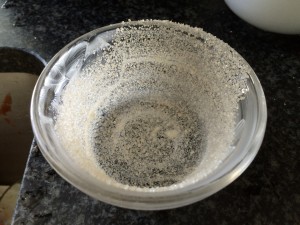 The ramekin coated in butter then sugar.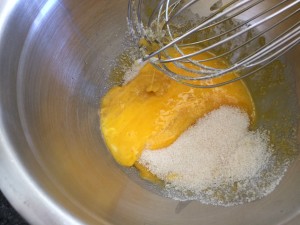 Beat egg yolks and sugar
Beat egg whites separately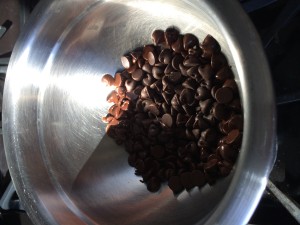 Melt chocolate chips.  Henry was taught to do this over a double boiler but the microwave works great if you watch it carefully.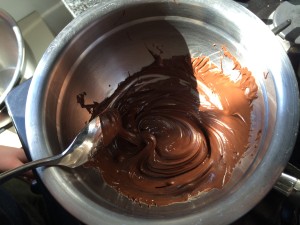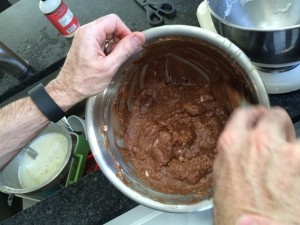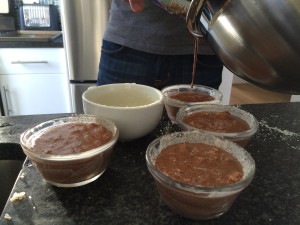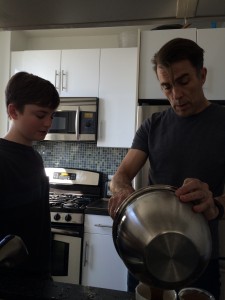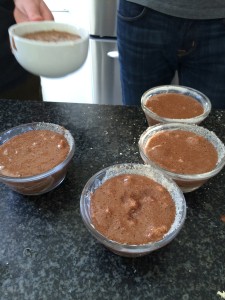 Ingredients
6 ounces semisweet chocolate, chopped small
6 eggs
2/3 cup sugar, divided
1/4 teaspoon salt
2 tablespoons heavy cream
1 teaspoon vanilla extract
Powdered sugar for garnish


Directions

Preheat oven to 350F. Set out 8 (6-ounce) individual ramekins. Generously smear the inside of each one with butter. Sprinkle a little sugar into each one so as to coat the inside of the ramekin. Set on baking sheet. Melt chocolate carefully and set aside.
To make souffle base, separate the eggs, placing yolks in one mixer bowl and whites in another. Add 1/2 cup of the sugar and the salt to the egg yolks. Beat with mixer on medium-high until very light, fluffy and thick, about 3 minutes. Mixture should form ribbons that take a few seconds to dissolve. Set aside.
Stir cream and vanilla into chocolate. Fold in 1/3 of the egg-yolk mixture. Fold in remaining egg-yolk mixture in 2 additions. Set aside.
Beat egg whites on medium until fluffy but not at all stiff, 3-4 minutes. Sprinkle in remaining 1 tablespoon of the sugar. Beat one minute longer on medium until whites are shiny and firm but not stiff (soft peak). Fold 1/3 of the egg white into chocolate base. Gently fold in remaining egg whites in 2 additions. Divide evenly among ramekins. At this point, you can refrigerate for several hours but they will bake longer, 20-23 minutes.
To bake and serve, place molds on a baking sheet in the middle of the over and set time for 15 minutes. Don't open oven when baking. They should only jiggle in the middle very slightly and the center should be creamy. Sprinkle with powdered sugar and serve immediately.