I like macaroni and cheese but I am not obsessed with it like some people.  Although when I made this  I was obsessed for a a couple days, until I moved on to my next food obsession.  This kinda blew my mind.  I think the key to its success was an awesome shaped noodle, really good cheese, lots of sauce to noodle ratio and eating it fresh out of the oven.  Reheating the next day was good but not even close to the real thing.  It congealed into square blocks instead of the loose gooey cheesy ambrosia of noodles from the day before.  The only extra flavors were the dried mustard and paprika.  I only had the basic sweet paprika and didn't get the real deal smoked paprika from a cool spice market.  That didn't seem to matter much.  I used an Irish Cheddar and some bits of miscellaneous fancy cheese scraps I had, too.  Now I wish I remembered exactly but I don't think it matters as much so long as they are good cheeses and a majority of cheddar.  It is a basic white sauce with flour, butter, milk and the mustard.  Then half or more of the cheese is mixed into the white sauce and half of the sauce covered noodles are laid into the pan and sprinkled with more cheese.  The other half of the noodles are laid down and covered with more cheese, sprinkled with paprika and baked.  Temperature and time has slipped my mind.  I really need to dig up the recipe.  This is from a month old memory now.  Just want to get what I have down here before this whole experience is lost to oblivion once I move on to my next cooking adventure!  Found the recipe…it is at the end.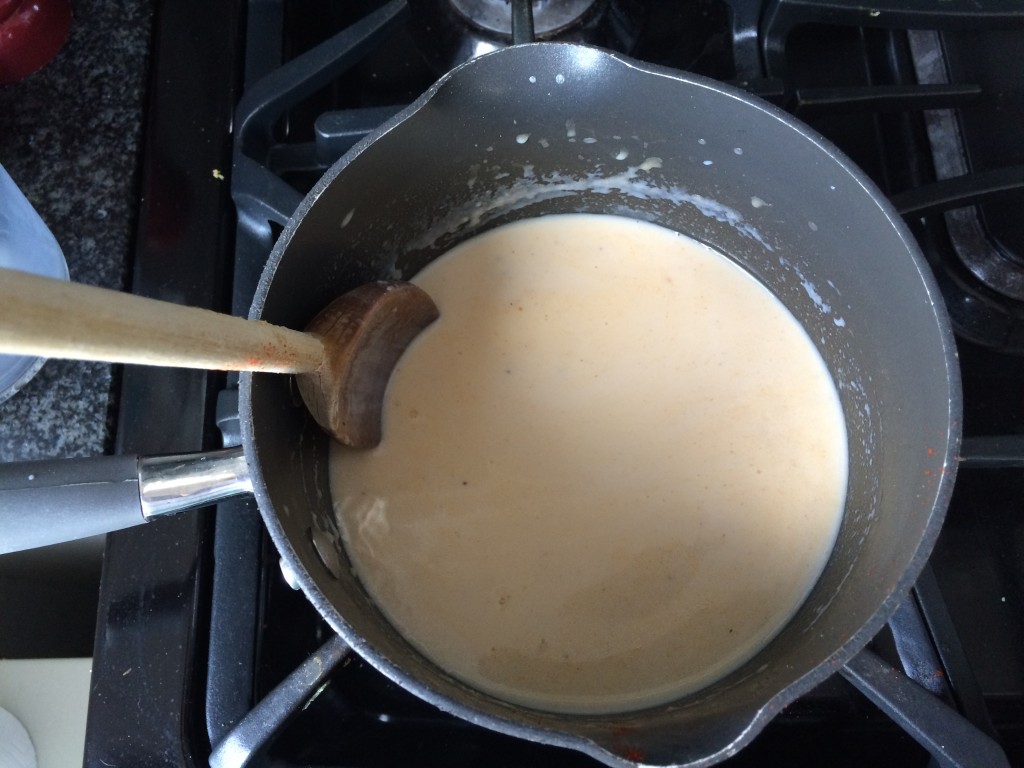 INGREDIENTS:
8 oz. (1/2 pound or about 1 3/4 cups) macaroni or other medium tubular pasta (like penne or conchiglie)
3 tablespoons butter
1/4 cup all-purpose flour
1/2 teaspoon salt
1/2 teaspoon dry mustard
1/4 teaspoon black pepper
1/8 teaspoon smoked paprika plus more for sprinkling on top
2 1/2 cups 2% milk
3 cups grated medium cheddar cheese
DIRECTIONS:
Boil the pasta until al dente, according to package directions. Drain and rinse with cool water to stop the cooking, and return to the pan you boiled it in. Set aside. (Mix in a little butter to keep the noodles from sticking if it's going to be awhile before you make the sauce)
Preheat the oven to 375 degrees Fahrenheit.
To a medium saucepan over medium heat, add the butter. When the butter has melted, add the flour, salt, dry mustard, pepper, and 1/8 teaspoon smoked paprika. With a wooden spoon or whisk, stir constantly for three minutes.
Add the milk in a thin stream, stirring constantly with a whisk. Continue to stir constantly until the sauce thickens, about 10-12 minutes.
Remove from heat and add 2 cups of the cheese, stirring until melted. Pour the cheese sauce over the pasta and toss gently until all of the pasta is coated.
Add half the pasta to a two-quart casserole dish (I like a tall 8-inch by 8-inch baking dish). Sprinkle on half the cheese. Add the rest of the pasta. Sprinkle on the rest of the cheese, then dust lightly with the smoked paprika.
Bake for about 25-30 minutes, until the mac and cheese starts getting a slightly dry and a tiny bit brown on top. Serve, topping individual servings with cooked, chopped bacon if desired.