A good Bolognese Sauce is such a comfort food for me!  I found this recipe in The Book of Pasta by Lesley Mackley back in the early 90s.  It was so delicious that I made it all the time and doubled, tripled and quadrupled the recipe, would save it in tupperware containers and pull it out to make lasagna or just eat it again and again.  I didn't realize I made it so much until my daughter Tabitha told me she can't stand bolognese sauce.  Why?!  It's so good!  She just remembers all the tupperware containers and the endless amounts of it that were around during her childhood.  That is unfortunate.  Also, the fact that she got horrible food poisoning at a Mexican restaurant and can't eat Mexican.  Now, that's a bummer!  Especially living in Southern California so close to Mexico.  A real tragedy!  And speaking of tragedy my other daughter Kenzie got food poisoning on eggs in kindergarten.  Now she can't eat eggs!  Another tragedy!  This sauce is no tragedy.  It is my comfort food heaven and wait till you have it with the béchamel or over homemade raviolis!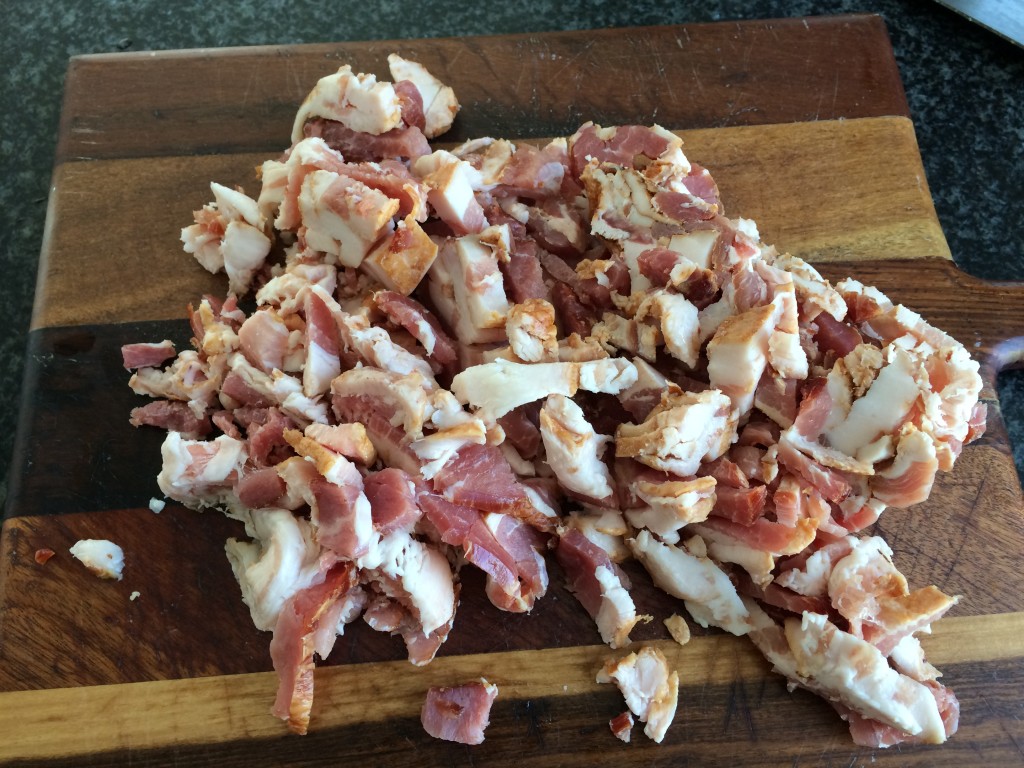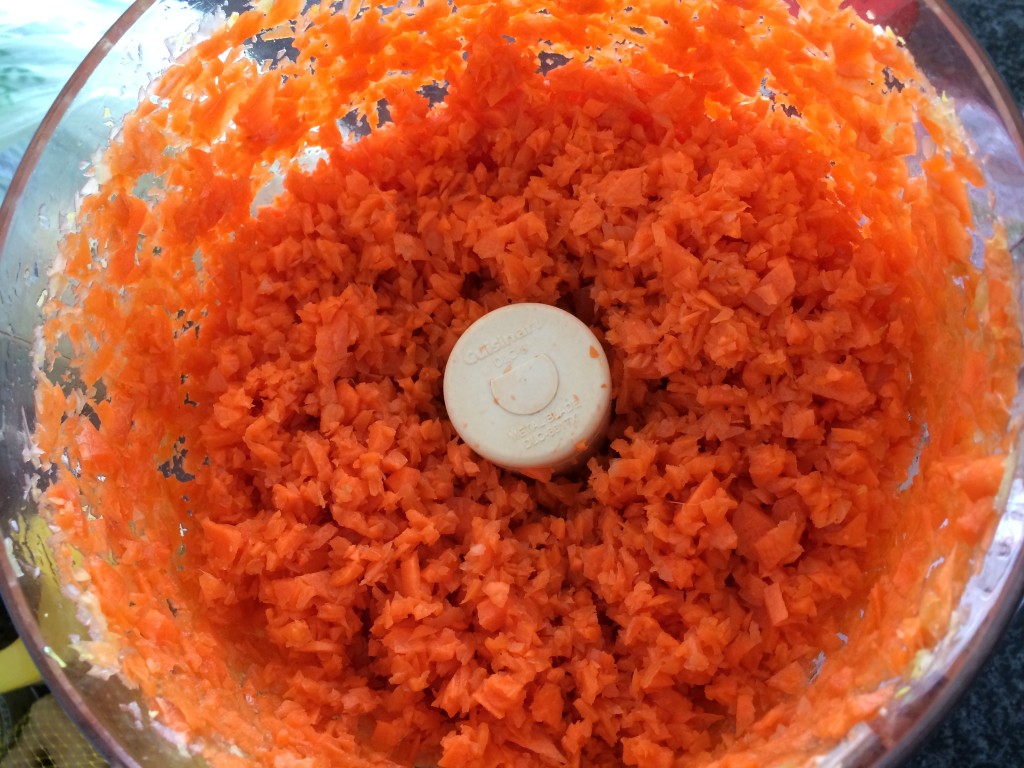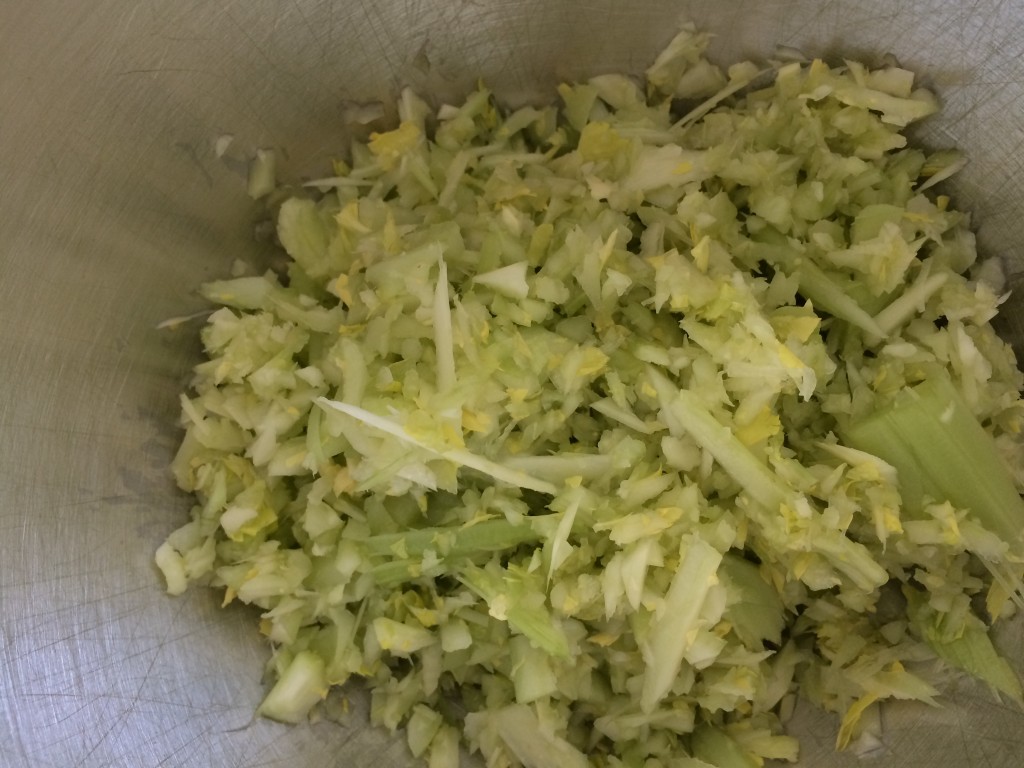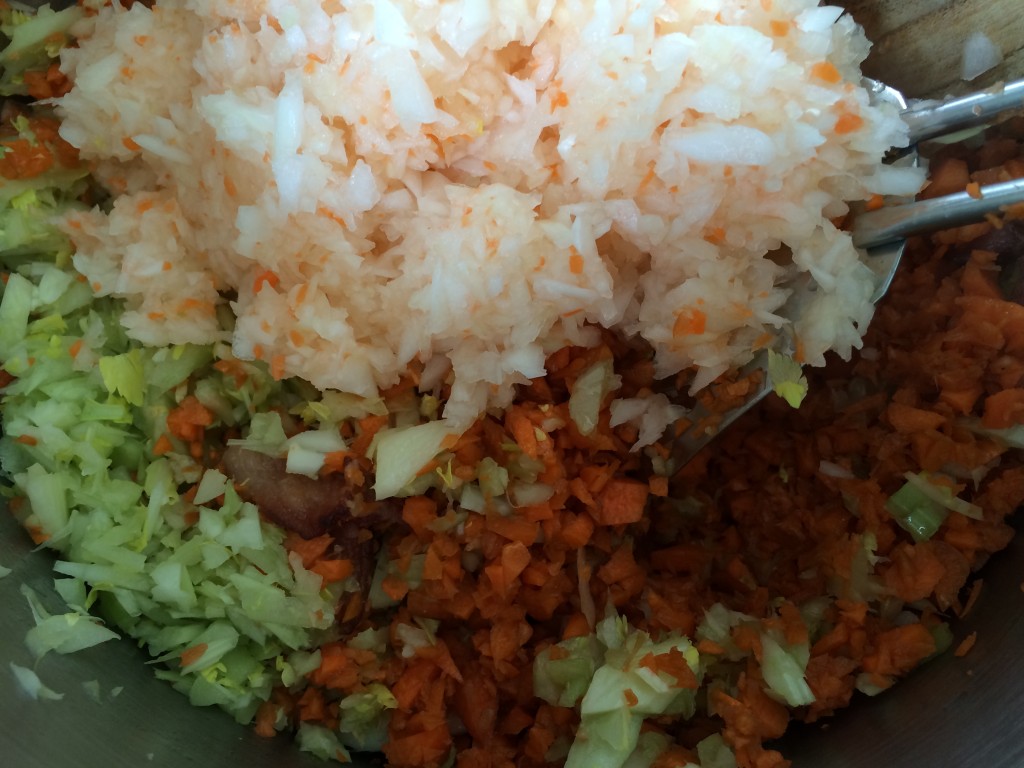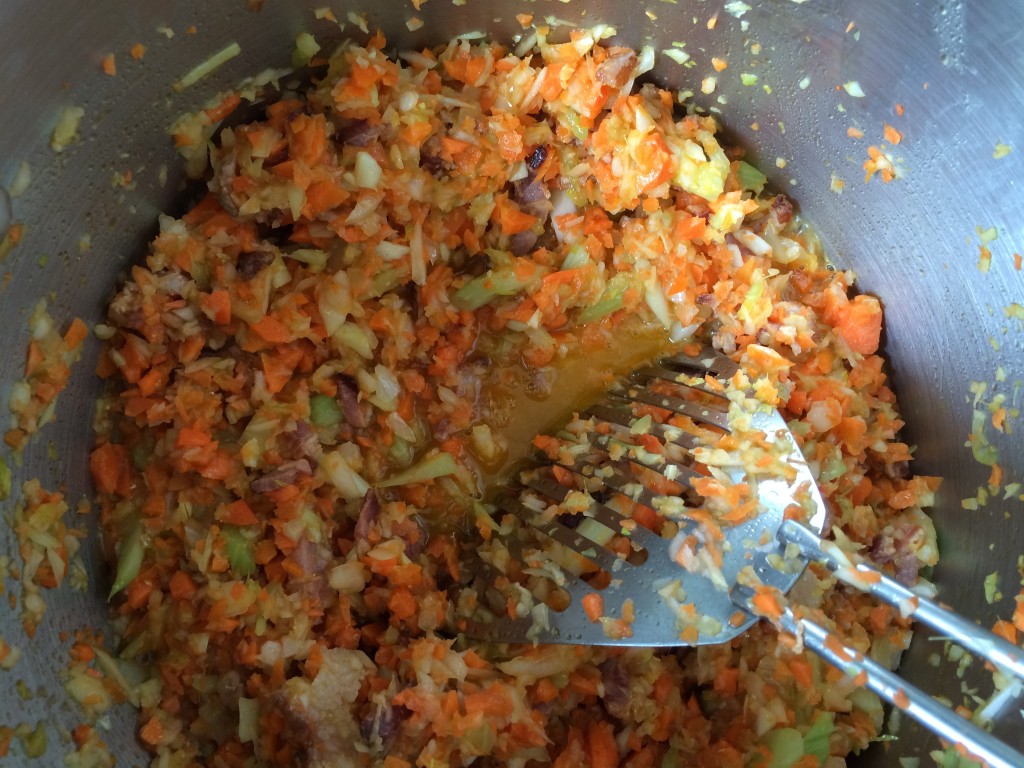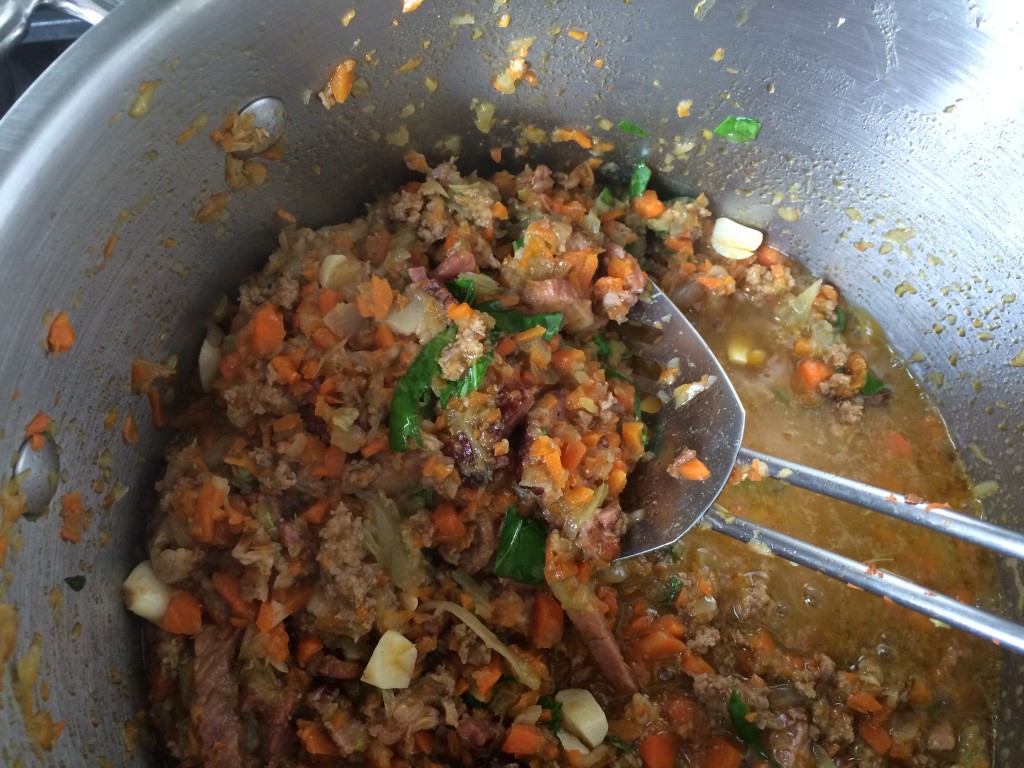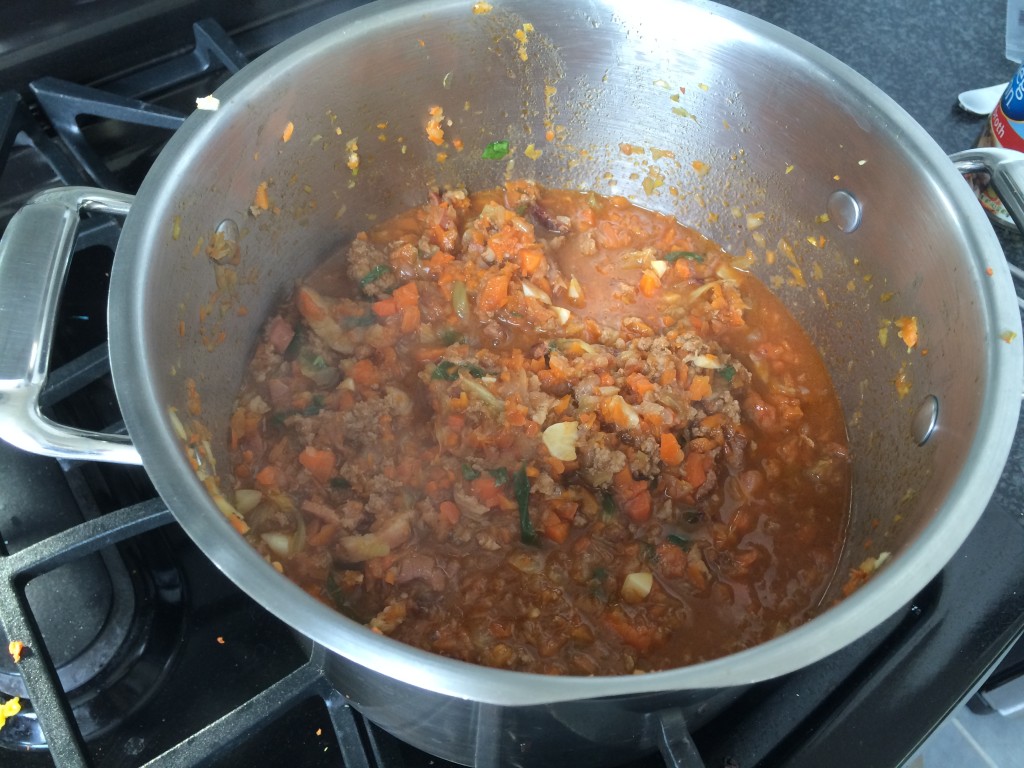 This is the actual recipe from the book.  I have adapted it, usually making much more.  I add a lot of nutmeg and it looks like I added some fresh basil here, too.  Never have used the chicken livers, maybe I am missing out but wouldn't even know where to buy those.
2 Tbs olive oil
2 slices bacon chopped
1 onion finely chopped
1 celery stalk finely chopped
1 garlic clove, crushed
8 ounces lean ground beef
4 ounces chicken livers 1/2 cup (never used this ever!)
2 Tbs tomato paste
1/2 cup dry white wine
1/2 cup beef stock
salt, pepper and nutmeg
hot cooked spaghetti
celery leaves for garnish
In a large saucepan, heat oil over medium heat.  Add bacon; cook until lightly browned.  Add onion, carrot, chopped celery and garlic to bacon.  Cook, stirring occasionally, until beginning to brown.  Add ground beef; cook, stirring occasionally, until evenly browned.  Stir in chicken livers; cook until they are no long pink.  Drain off excess fat.  Stir in tomato paste, wine, stock and seasonings.  Cover and bring to a boil.  Cook over low heat 30 to 40 minutes.  Serve with spaghetti.  Garnish with celery leaves, if desired.  Makes about 3 cups.
********Latest Version*******
I just made this again and used Verjus Blanc instead of the white wine and it was so good!  This was my modified version that I loved!
About 3 Tbs of olive oil
1/2 package of odd and ends of bacon from Trader Joes
I cooked the bacon pretty well and then add the veggies which I thought were over chopped but I think it turned out better this way.  The recipe says to cook until beginning to brown so I waited a long time since there was so much moisture in the veggies it took a long time to finally start to brown.  It was was worth the wait.
3 medium sized onions (chopped fine in the food processor)
1 head of celery (chopped fine in food processor)
6 or 7 carrots (chopped find in food processor)
4 or 5 garlic cloves
Once the veggies started to brown I added a
1 pound package of very good grass fed ground beef.
Once it wasn't pink anymore I added a
small can of tomato paste
can of Swanson's beef broth
1/3 of the can filled with Verjus Blanc
Lots of Nutmeg
Pepper, a little salt but didn't need much
Simmered for about 40 minutes.  It was awesome!
I serve the bolognese over handmade raviolis made with 2 wonton skins filled with ricotta, green onions and parmesan.  So good!