These are a flavor explosion!  I am not sure if the taste comes through these pictures but they are amazing!  I made these probably 12 years ago and they blew my mind!  I was so excited to share them with my family.  My daughters and their friends Victoria, Megan and Brooke from the neighborhood were over, too.  I kept saying, "They are soo good!  You have to taste this!"  The neighborhood girls tried them.  But Kenzie refused.  What is wrong with my children?  Then, the bribing began.  I started with $5 to eat one.  Then $5 to take a bite.  Then I moved to $10. $10 for a bite.  By this time I was so frustrated and they were getting cold.  And as Dominic Ansel says, "time is an ingredient" so they were losing a key ingredient to their deliciousness which is the sticky hot caramelized coating that makes you lick your fingers like you are eating ribs.  Finally, Kenzie took a cold small bite and her face grimaced in pain.  Whatever!  Your loss.
12 years later…
I started going through my old recipe file folders and came across this recipe and had a rush of mixed emotions and memories.  "Those were so good!" and "I need to taste those again!" along with "I can't believe Kenzie couldn't even eat one!"  So Friday last week Henry came home early from school as I was making these.  He could smell what was going on but they were taking longer than I expected so at about 2:30 they were finished and Henry was starving since he hadn't eaten lunch at school!  And as my dad always says, "Hunger is the best sauce!"   Anyway, I offered these to Henry casually, no bribing, no coercing and he started gobbling them up.  I knew he really liked them.  I was trying to take some pictures and he had eaten about 6 before I had a chance to taste them myself.  Then I took a bite.  Whoa!  So good!  Just like I remembered.  All those frustrating feelings of my kids not liking them 12 years ago disappeared.  I was vindicated!  They WERE good!  And Henry proved it!  I was on cloud 9 the rest of the day!  I asked Henry, "Do you think taste buds are a genetic trait that is passed down?" Henry has a very discerning palette.  We devoured the first batch and I made more.  This batch didn't taste quite as good.  Henry tried one from the new batch and said, "there is too much sauce".  What?, I was confused.  The sauce is the best part!  The sticky caramelized plum sauce that coats these is what makes them so unique.  But he was right.  When you use too much there is a sogginess that happens that takes away from the crispy fried crunch underneath.  How smart is that!  Note to self.  Don't use so much sauce on the next batch.  In fact, Sunday I cooked up the remainder and used much less sauce, maybe erred on the side of too little but Henry was right.
This looks a little gooey and that is my mistake.  There are 2 eggs in the recipe.  One to bind the filling and one to brush on the wrapper.  I didn't read it carefully and put in both eggs.  They still tasted great but it made the filling much harder to work with.
This is the Mint Chili Sauce before it got hit with stick blender.  Lot of fresh mint!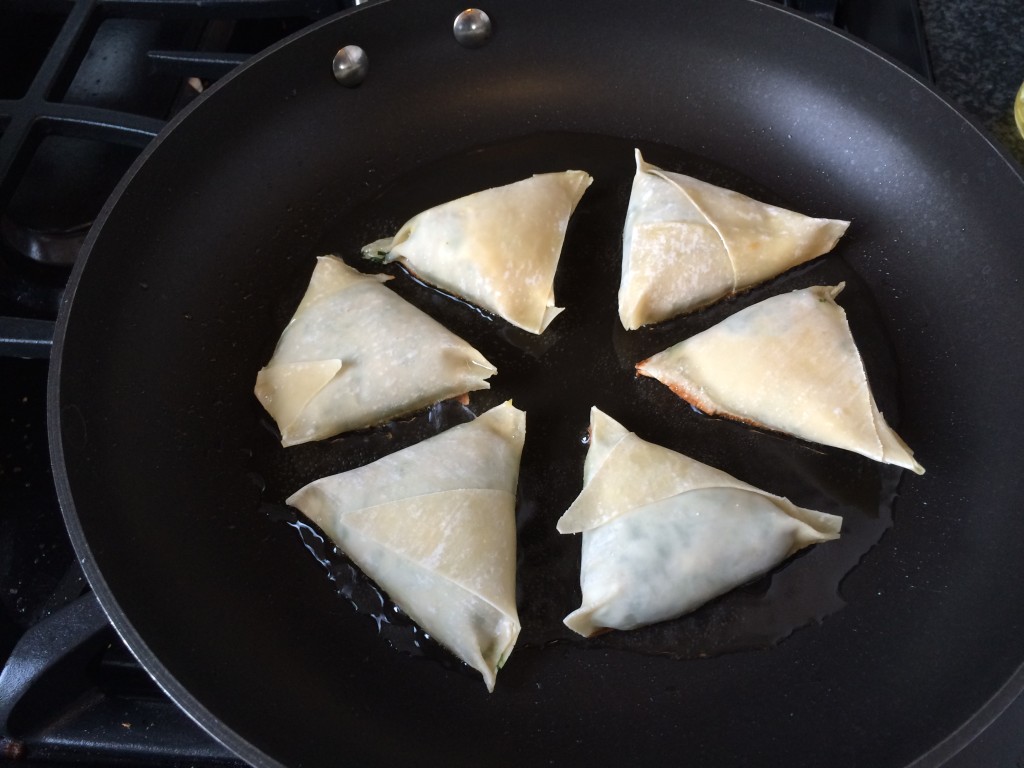 Fry the potstickers in oil for about 3 minutes.
Then cook them in a small amount of plum sauce, sherry and water mixture for a couple minutes until the sauce starts to caramelize a coating over the potstickers.
1 10-ounce package frozen chopped spinach, thawed, squeezed dry
3/4 pound ground chicken (probably could use the whole pound package)
2 large eggs (use one for filling one for wrapping)
1 cup chopped green onions
1/3 cup chopped cilantro
1 1/2 tablespoons finely chopped peeled fresh ginger
2 garlic cloves, minced
1 tablespoon soy sauce
2 teaspoons chili-garlic sauce*
1 1/2 teaspoons oriental sesame oil
1 teaspoon grated lemon peel
1/2 teaspoon ground black pepper
1/2 teaspoon salt
12 egg roll wrappers
1 cup Chinese plum sauce
3/4 cup water
2 tablespoons dry Sherry (I used sweet Vermouth but not sure this is even necessary)
18 tablespoons (about) vegetable oil
Mint-Chili Sauce
PREPARATION
Place spinach in large bowl; mix in chicken, 1 egg and next 10 ingredients.
Beat remaining egg in small bowl. Place 1 egg roll wrapper on work surface; cut in half diagonally. Brush edges with beaten egg. Spoon heaping 1 tablespoon chicken filling into center of each half. Fold egg roll wrappers over filling, forming small triangles. Press edges together to seal. Repeat with remaining egg roll wrappers and filling. (Potstickers can be prepared ahead. Arrange in single layer on foil-lined baking sheet; cover with plastic wrap. Refrigerate up to 6 hours or freeze up to 3 days. If frozen, thaw potstickers before continuing with recipe.)
Whisk plum sauce, 3/4 cup water and Sherry in small bowl to blend. Set aside.
Heat 3 tablespoons vegetable oil in large nonstick skillet over medium heat. Working in batches, fry 4 potstickers at a time until brown on both sides, about 1 1/2 minutes per side. Transfer to paper-towel-lined plate to drain. Repeat with remaining potstickers in 5 more batches, adding 3 tablespoons vegetable oil (or more if necessary) per batch.
Heat 5 tablespoons reserved plum-sauce mixture in another large skillet over medium heat. Add 4 potstickers and cook until chicken filling is cooked through, turning once, about 3 minutes. Transfer to platter. Repeat with remaining plum-sauce mixture and potstickers in 5 more batches. Serve potstickers immediately with Mint-Chili Sauce.
Mint Chili Sauce