Roger and I had the liege waffles at Moulin, a French cafe in Laguna one morning.  He suggested I try to make them at home for our neighbor Carol who was coming over for Sunday morning coffee.  They turned out so amazing!  I made the dough at night and let it warm up in the morning.  It took about 2 to 3 hours to warm up.  I found the recipe online at a blog called Oh Sweet Basil.  They copied a waffle from a food truck in Utah.  After living in Salt Lake City for a year I know that they know how to make bread, or anything bready and sweet and delicious like this!  This recipe blew my mind and totally eclipsed the Moulin waffle.  It was like part buttery croissant, part donut and part waffle with a crunchy caramelized sugar coating in and around it.  We didn't add a thing to it.  Just ate it with our hands and moaned.
INGREDIENTS:
3/4 cup whole milk, scalded and cooled to warm milk 100 degrees
2 tablespoons water, warmed
1 1/2 teaspoons sugar
2 teaspoons instant yeast
2 large eggs, lightly whisked
1 cup unsalted butter, softened (I added 1/2 tsp of salt to the recipe which I thought was perfect)
3 tablespoons honey
3 tablespoons white sugar
3 teaspoons really good vanilla
2 cups bread flour
1 1/2-1 3/4 cups flour
2 cups Belgian pearl sugar
DIRECTIONS:
Add the 1 1/2 teaspoons of sugar to the milk and water and add the yeast, stirring to combine. allow the yeast to proof, or get foamy and puffy.
in a large bowl, beat together the butter and sugars. add the eggs, honey and vanilla. stir together and add the yeast mixture. place in a standing mixer with the dough hook and add 2 cups of flour. mix until the dough is thoroughly incorporated, and add the remaining flour, cover with plastic wrap and allow to rest for up to 4 hours on the counter
See notes for allowing to rest in the fridge overnight. then punch down and knead in the pearl sugar.
separate into 8 to 10 balls and place on a hot, greased waffle iron. cook until golden brown.
You can let the dough rest for up to 24 hours covered with plastic wrap in the fridge. The dough will need to sit on the counter and come back to room temperature to use.
need to skimp on the rise time? no biggie, though you will lose some of that awesome flavor.  These pictures show the real Belgian pearl sugar from the second time I made them.  The first time I didn't take photos and used a south american brown sugar cube called Parruche and broke them up with a mallet.  I actually preferred this over the pearl sugar.  I also slathered the waffle iron with butter before each waffle.  Their recipe didn't add any salt but I added 1/2 teaspoon to make up for the 1/4 tsp lacking in each stick of unsalted butter.  The salt brings out the caramelized sugar.  Without it I don't think I would have liked them as much.  Don't forget to add it.  Also I melted my butter more the first time around and they seemed more buttery.  The second time the butter was just room temperature.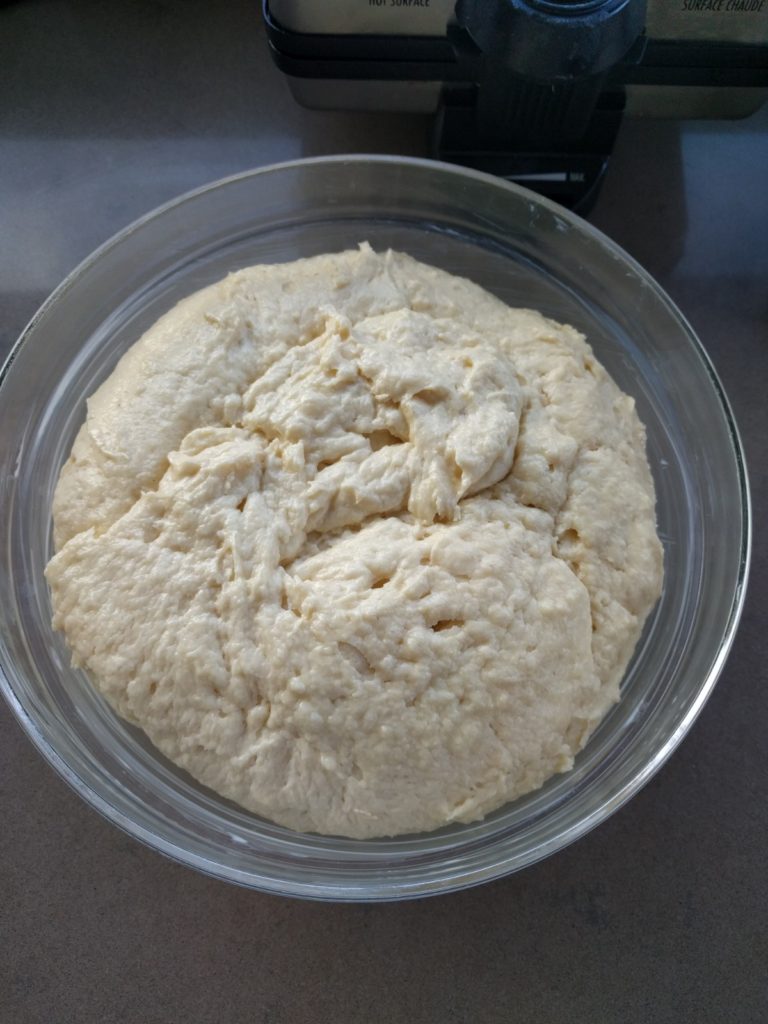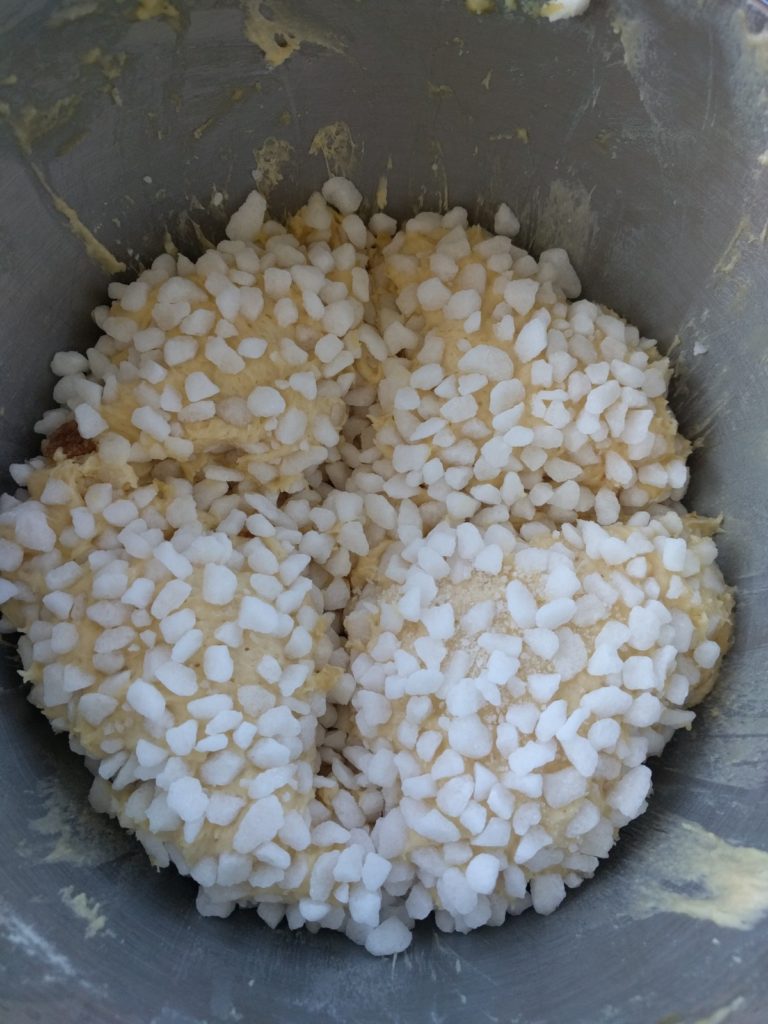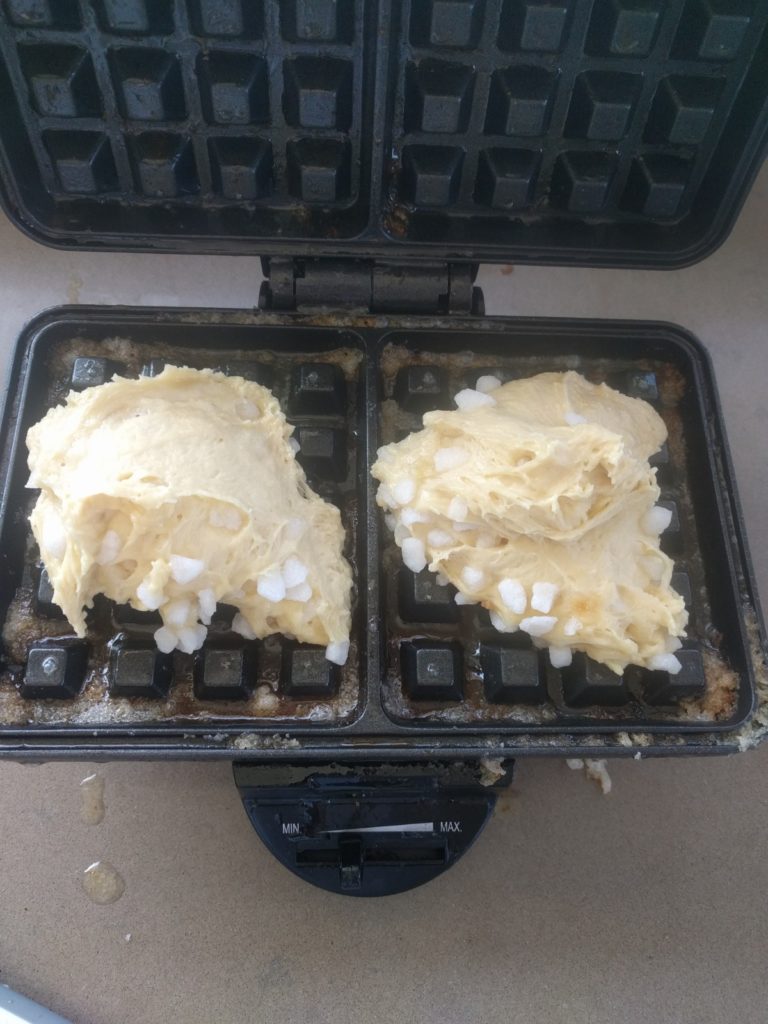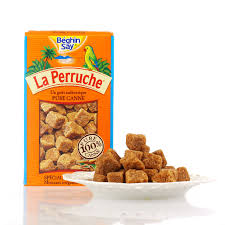 This is the sugar I used the first time.  It has a more caramelized flavor.  It was a pain to have to break it up with a mallet in a ziploc bag and then I ended up with large pieces, medium pieces and powder but somehow it turned out better.