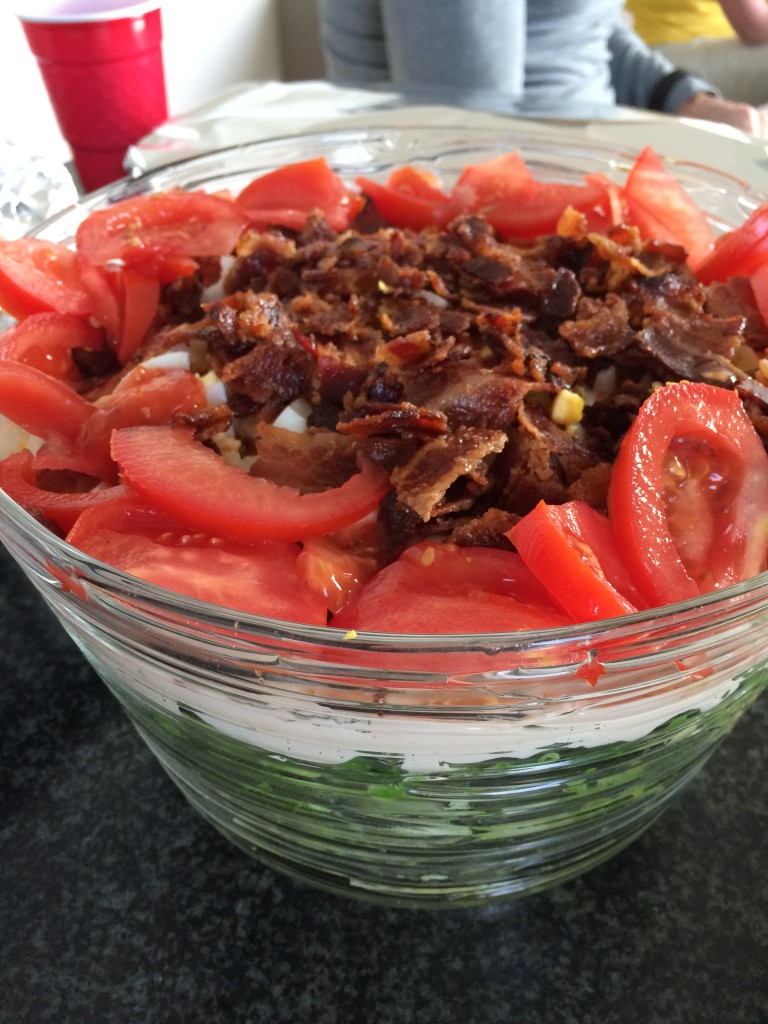 This is recipe that was popular in the 70's when I was a kid.  My mom never made it but I must have had it at some church potluck or something.  It was ubiquitous back then.  Anyway, my friend Kim Van Vlear brought it to a neighborhood party and it brought me back to my childhood memories of this.  It kind of tastes like a BLT sandwich in salad form.  Many Thanksgivings ago I asked Roger what food he remembers from his Thanksgivings and this salad came up.  So I made this for him one year.  Then this year I decided to do it again.  It turns out Kaimi remembered the recipe from his childhood and really liked it.  Roger said that his mother made it in a 9 x 13 pan.  Roger said the layers are easier to get a bit of everything this way.  I will try this next time.
Ingredients:
1 medium size iceberg lettuce sliced thin and chopped
1/2 cup sliced green onions
1 cup sliced celery
1 package (10 ounce) unthawed frozen peas
2 cups mayonaise (too much, try less maybe 1 1/2 cups)
2 teaspoons sugar
1/2 cup parmesan cheese
1 teaspoon seasoned salt (like Lawry's)
1/4 teaspoon garlic powder
Layer these ingredients in the order listed in a bowl or a 9×13 pan.  Cover with saran wrap and put in the refrigerator overnight.  Decorate the salad with bacon, eggs and tomatoes before serving.
1/2 – 3/4 pound bacon cooked and chopped
3 hard cooked eggs (chopped)
2 medium size tomatoes cut into wedges.
This salad seems so old school but it is still very delicious!  Its great too because it can be made ahead of time.