INGREDIENTS
2 1/2 pounds medium red or golden beets, scrubbed and trimmed
1/2 cup plus 2 tablespoons extra-virgin olive oil
1 tablespoon unsalted butter
2 tablespoons sugar
1 tablespoon light corn syrup
Salt
Pinch of cayenne pepper
1 cup marcona almonds (I used Trader Joes with rosemary, so good!)
1/2 cup fresh tangerine juice
2 tablespoons sherry vinegar
1 tablespoon Dijon mustard
1 tablespoon minced shallots
1 small head of frisée (4 ounces), torn into bite-size pieces
Young pecorino cheese
HOW TO MAKE THIS RECIPE
Preheat the oven to 350 degrees. In a large baking dish, toss the beets with 2 tablespoons of the olive oil. Cover with foil and bake for 1 1/2 hours, or until tender. When cool enough to handle, peel the beets and cut them into 1/2-inch wedges.
Meanwhile, line a large rimmed baking sheet with parchment paper and lightly butter the paper. In a medium saucepan, combine the 1 tablespoon of butter with the sugar, corn syrup and a pinch each of salt and cayenne and bring to a boil, stirring, to dissolve the sugar. Add the almonds and stir until evenly coated with the syrup. Scrape the almonds onto the parchment-lined baking sheet in an even layer. Bake with the beets (on a separate pan though) for about 12 minutes, until golden and bubbling. Let the nuts cool for about 25 minutes, then break into small clusters.
In a small saucepan, simmer the tangerine juice over moderate heat until reduced to 2 tablespoons, about 15 minutes. Let cool, then transfer to a large bowl. Whisk in the vinegar, mustard and shallots. Gradually whisk in the remaining 1/2 cup of olive oil and season the dressing with salt. Add the beets and frisee and toss.
Transfer the salad to a platter or bowl. Garnish with the candied almonds, shave the pecorino on top and serve.
MAKE AHEAD
The peeled, roasted beets can be refrigerated overnight. Bring to room temperature before serving. The candied almonds can be stored in an airtight container at room temperature for up to 2 days.
I made this at the last Cooking Club at my house.  Instead of a theme, we all made a salad and had a trio of salads for dinner.  It turned out great!  The weather had been really hot all summer.  I also made a Chocolate Tres Leches Cake with Rum for dessert.  It was disappointing.  Another post for that one.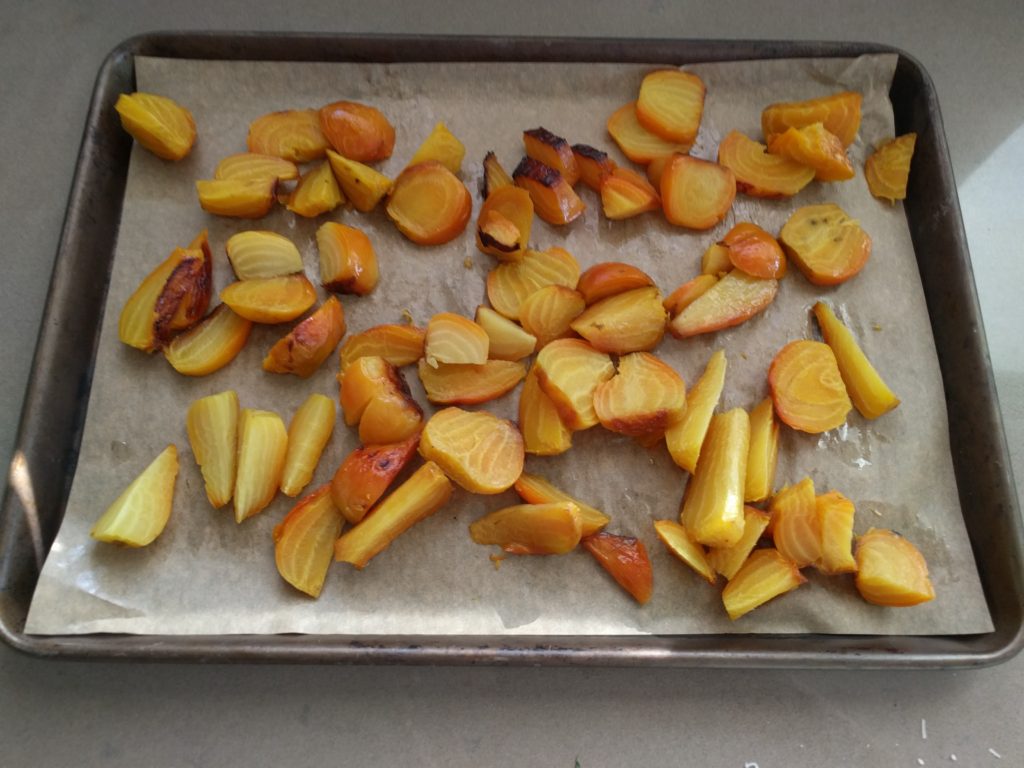 This is where I read the recipe incorrectly.  While the beets are cooking covered with foil for 1 1/2 hours, you cooked the candied almonds in the oven for 12 minutes of that time on another cookie sheet with parchment.  I thought the recipe wanted me to cook them together so my pictures show an incorrect method.  Still tasted great though.
Carol with her Mango, Avocado, Quinoa Salad
All three salads: