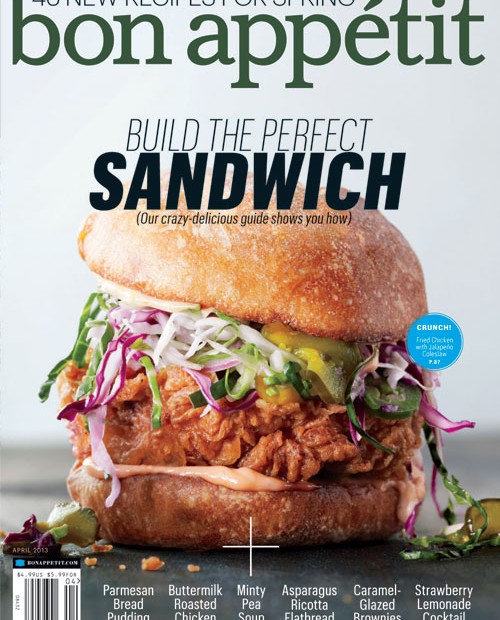 These sandwiches are so good!  The first time I made these Henry suggested I open a restaurant.  The recipe comes from an April 2013 Bon Appetit magazine that I bought from the grocery store because this was on the cover and sounded amazing!  It tasted just like I wanted.  I love sandwiches with coleslaw and these hit the spot!  Hill Country Chicken in NYC makes a really good fried chicken sandwich like this but other than that place nothing compares to making it at home from scratch.
Above is the NYC version.  Below is the first try in Laguna.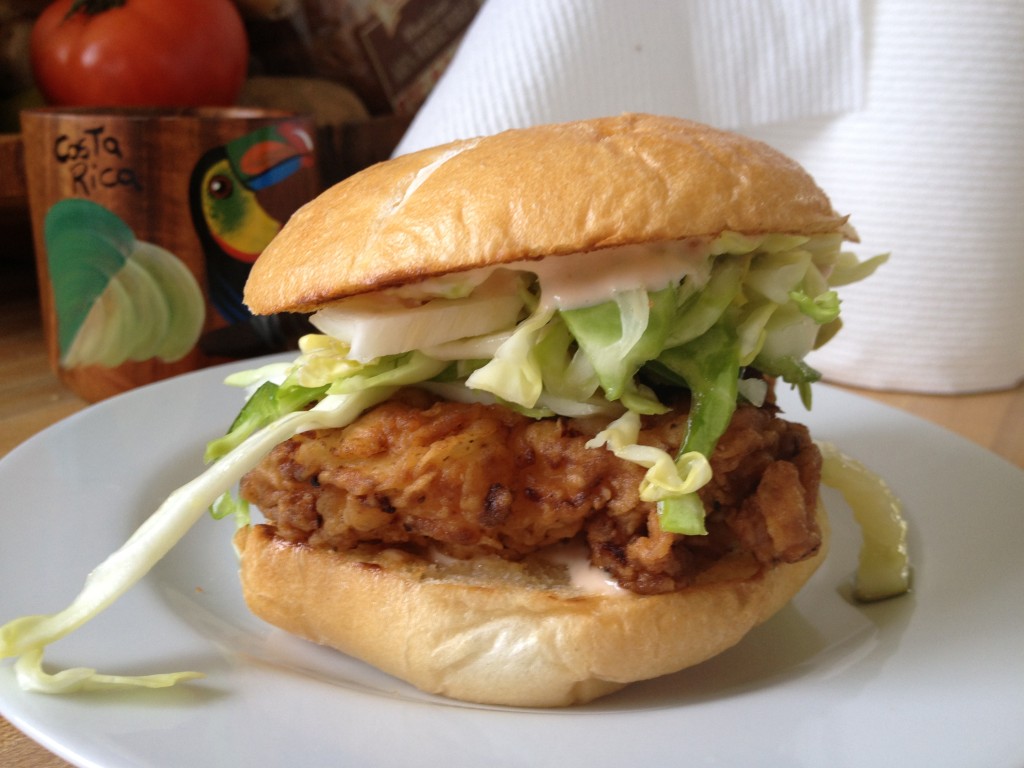 SERVINGS: 4
Spicy Mayo And Slaw
1 garlic clove, finely grated
1/2 cup mayonnaise
1 tablespoon Louisiana-style hot pepper sauce
1/2 small red onion, thinly sliced
1 jalapeño, thinly sliced
4 cups thinly sliced cabbage
1/2 cup Bread-and-Butter Pickle slices, plus 1/4 cup pickle juice
Fried Chicken And Assembly
2 cups all-purpose flour
1 tablespoon ground black pepper
1/2 teaspoon kosher salt plus more
1 cup buttermilk
2 8-ounce skinless, boneless chicken breasts, halved crosswise
Peanut or vegetable oil (for frying)
4 white sandwich rolls
2 tablespoons unsalted butter, room temperature
Special Equipment
A deep-fry thermometer
Spicy Mayo And Slaw
Mix garlic, mayonnaise, and hot pepper sauce in a small bowl; cover and chill. Toss onion, jalapeño, cabbage, pickles, and pickle juice in a large bowl to combine; cover and chill.
Fried Chicken And Assembly
Whisk flour, pepper, and 1/2 teaspoons salt in a shallow bowl. Pour buttermilk into another shallow bowl. Working with 1 piece at a time, dredge chicken in flour mixture, shaking off excess. Dip in buttermilk, allowing excess to drip back into bowl. Dredge again in flour mixture, shaking off excess.
Pour oil into a large heavy skillet to a depth of 1/2-inch. Prop deep-fry thermometer in oil so bulb is submerged. Heat over medium heat until thermometer registers 350°.
Fry chicken until golden brown and cooked through, about 3 minutes per side. Transfer to a wire rack set inside a baking sheet; season with salt.
Spread cut sides of rolls with butter. Heat another large skillet over medium heat. Working in batches, cook rolls buttered side down until browned and crisp, about 1 minute. Spread with spicy mayo. Build sandwiches with rolls, chicken, and cabbage slaw.